Main content
Arrabiata Sauce with Chickpeas
Lucy Boyd shows how to Cook the Perfect Arrabiata Sauce
The Perfect Arrabiata Tomato Sauce with Chickpeas
This is a really simple, delicious and cheap dish to make. The chickpeas add bite and you can use parsley or rocket to garnish.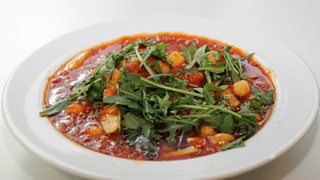 Sign up to the Cook the Perfect newsletter, or subscribe to our free download, to be kept up to date with all cookery items.
Ingredients
3-4 tbsp olive oil
3 garlic cloves, peeled and roughly chopped
3 dried red chillies, crushed
1x 400g tin of whole peeled plum tomatoes
1x 400g tin of chickpeas, drained and rinsed under cold running water until the bubbles disappear
1 handful of roughly chopped fresh flat-leaf parsley or rocket
sea salt and black pepper
Preparation Method
Pour the olive oil into a pan over a medium heat, then add the roughly chopped garlic. Let it caramelise until a light brown colour. This will flavour the oil, which in turn will flavour the tomatoes.
Add the chillies and then the tinned plum tomatoes and their juice. In the summer you can replace tinned tomatoes with fresh ones.
Let the sauce simmer for about 20 minutes, stirring from time to time until the tomatoes have collapsed and formed a sauce, then remove from the heat.
Add the chickpeas to the tomato sauce and cook for 5 minutes or so to heat through.
Check the seasoning.
Serve with grilled pork chops, with a scattering of chopped parsley or rocket leaves over the top.
Browse our selection of Cook The Perfect...recipes
Tips and Techniques
The sauce is also a great base for a simple fish stew or for adding to other ingredients, such as courgettes, prawns, anchovies, dried porcini, pancetta or peas, to go with pasta.
You can use either 300g dried chickpeas that have been soaked overnight and then cooked in boiling, unsalted water for about 1 hour until just soft, then drained and seasoned with salt, pepper and extra-virgin olive oil. Or 400g tinned ones, rinsed thoroughly, which are also pretty good.
Chickpeas cooked in this way are very easy and delicious with grilled or roasted meat and some fresh parsley or rocket scattered over at the end.
The best flavoured tomatoes for this recipe are Italian San Morzano plum tomatoes which you can get in tins. In the summer,you can use fresh ones.
Use really good olive oil for the best results.
Browse our selection of recipes from top chefs, cooks and food writers who have joined us on Woman's Hour.