Main content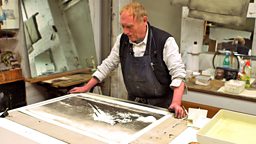 A unique glimpse into the working life of a master etcher, capturing each stage of the process behind his craft. Norman Ackroyd is one of the country's most celebrated landscape artists. Born in Leeds in 1938, he attended the Royal College of Art in the 1960s.
After experimenting with pop art, he gradually turned to his first love, the landscape, and over the last thirty years he has documented some of the most remote corners of Britain.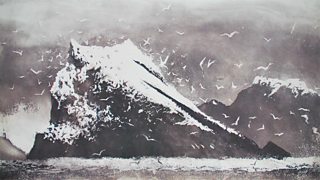 The Rumblings - Herma Ness, Shetland © Norman Ackroyd 2012
Norman tells the story of his artistic journey and gives a unique glimpse into his working life. Filmed in the converted London warehouse where he lives and works, we follow Norman as he embarks on the final stages of one of his monochrome prints.
From delicate work on the copper plate, through preparation of the aquatint resin that brings shade and texture to the image and the application of the acid which etches the final picture from the copper, the film captures each stage of the process behind his craft.
At the end of the day, without knowing how the piece will turn out, Norman passes it through the printing press, revealing for the first time his latest work, capturing the atmospheric craggy cliff of Muckle Flugga in the Shetland Islands.
Career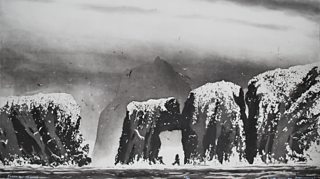 Flannan Islands © Norman Ackroyd, 2012
1938: Born Leeds
1956-61: Leeds College of Art
1961-64: Royal College of Art, London
1988: Elected Royal Academician
1994: Appointed Professor of Etching, University of the Arts
2000: Elected Senior Fellow, Royal College of Art
2007: Awarded a C.B.E. for Services to Engraving and Printing
What Do Artists Do All Day?
Intimate, observational portraits of leading artists: BBC Arts has released selected films available on BBC iPlayer for an extended period
Art and Artists: Highlights
Edinburgh's Dovecot Gallery is hosting two major exhibitions as part of the 2015 Edinburgh Art Festival

An astounding photographic collection by 'Speedy George' Douglas

A sculptural mystery tour which takes in several of Britain's finest galleries

Just who was the man behind some of the most memorable artworks of the last century?

The extraordinary work of award-winning American photojournalist Steve McCurry

A major Tate retrospective of the British sculptor, and the dedicated museums in Yorkshire and Cornwall