Main content
BBC Radio Solent Community Heroes Awards 2020
The BBC Radio Solent Community Heroes Awards 2020 aim to recognise unsung heroes across Hampshire, Dorset and the Isle of Wight with entries being sought in a variety of categories.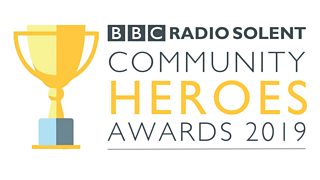 Nominate unsung heroes across Hampshire, Dorset and the Isle of Wight
The awards will celebrate individuals and groups who have been nominated in recognition of their hard work and how that goes to make our Communities a better place.
There are seven categories as follows:


Young Achiever - Awarded to anyone aged 18 or under, who has demonstrated maturity beyond their years.


Coastal - someone who gives their time, energy & passion into making our coastline a better place, whether by marine conservation, protecting the environment, education or saving lives.


Services - Presented to a member of the emergency services or the armed forces for commitment to their profession.


Carer - Someone who cares for an individual or group of people on a regular basis.


Good Neighbour - Awarded to an individual or organisation that helps make the neighbourhood & local community a better place to live or work, either on a regular basis or through a single act of kindness or courage.


Inclusion – An individual or group who strives to break down barriers, enforce positive messages, reach out to minority groups and bring people together.


Volunteer - Awarded to a person or group who gives up their time voluntarily to help others, perhaps contributing to local sporting life, helping out at a local charity or good cause.

A winner from the above categories will also receive the BBC Radio Solent Outstanding Achievement Award.
How to nominate
Click here to nominate someone for an award, just let us know who you would like to nominate and why.
Nominations can be made from Monday 6 January 2020 until the closing date at midnight on Sunday 1 March 2020. All those who make the shortlist will be invited to a special awards ceremony on Monday March 30 2020.

Click here for our Privacy Notice and Terms and Conditions