Main content
The Other Top of the Pops...
Some of the most expensive records that have been auctioned in the last few years are 'BBC transcription service' discs, pressed for radio stations to use overseas. Some are for long forgotten radio shows like Folk Song Cellar (on which a young Sandy Denny appeared, singing a couple of songs that only resurfaced on CD on her 2007 Live At The BBC box set. Brian Matthew's instantly recognisable voice appears on a series of discs confusingly called Top Of The Pops.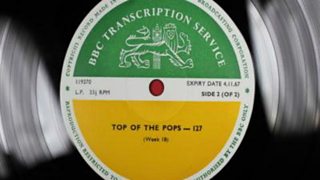 We just ploughed on, selling British pop. It was entirely British. We didn't play any American records...

Brian Matthew
Brian Matthew never hosted Top Of The Pops - at least, not the TV show, but he was the sole presenter of a radio programme of the same name from late 1964, right through the sixties, and beyond. The reason you may have never heard of it is because it was recorded for overseas radio stations - syndicated, exported, and never broadcast in Britain. "I did that for the BBC Transcription Service" remembers Brian, sipping his coffee, "which was based in Shepherds Bush. That was an hour's programme initially, but eventually became just a half hour programme, and was made up substantially of sessions and records that had been played on other programmes, particularly on Saturday Club. It was initially designed to be sent to America, but I'm not aware of any - or many - American stations actually playing it... I think some did. I did that for nearly 40 years, unbelievable! It was quite a long run."
Initially Top Of The pops billed itself as "featuring live London performances of Britain's top sounds." The general format featured four or five different artists doing three songs each, often with a brief interviews from Brian. This format changed in 1969, when the top names became less willing to cut tracks to appease the BBC's arcane regulations, and performances from TV and records were used to fill out the programme.
"We just ploughed on, selling British pop. It was entirely British. We didn't play any American records. We put them initially on 12" vinyl discs and sent them all over the world." With their distinctive yellow and green labels, these 'transcription discs' have become highly prized collectors items. The programmes were of special significance to listeners in more isolated outposts. "I do still get mention of it in letters from people in Australia and New Zealand who remember it" says Brian, "because the programme enabled them to hear music they couldn't get."
Brian was still broadcasting British pop around the world on Top Of The Pops at the turn of the nineties. "I'd finished everything else in radio by then and was back doing theatre, in Chichester. I was in a production of Merry Wives Of Windsor in 1990, and I remember I had to drive up from Chichester one afternoon a week - secretly, because I'd been told by the director, quite clearly, that I was employed by them and 'not by anybody else'. So I had to sneak in between sessions, up to the BBC, record a programme, and go back down to Chichester, where I lived on my boat. Extraordinary."