Main content
Six wonderful ways Virago shook up the world of books
28 October 2016
For over 40 years, publisher Virago has championed the work of new female authors, provided a platform for major feminist thinkers, and shone a spotlight on long-forgotten literary classics. BIDISHA takes a look back at a publisher brave enough to shake up the book world.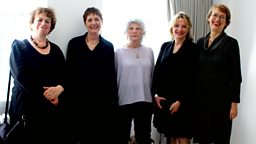 Virago's leading lights back at the old office. From left to right: Ursula Owen, Alexandra Pringle, Carmen Callil, Lennie Goodings, Harriet Spicer. © What Larks! Photographer: Lisa Martinson.
1: They were founded in the swinging but sexist 1970s
Virago was launched in 1973 by Carmen Callil, Rosie Boycott and Marsha Rowe, initially working from Callil's house in Chelsea before migrating to offices in then- tantalisingly bohemian Soho.
A virago is a "domineering, violent, or bad-tempered woman", or a "heroic war-like woman"
Carmen Callil was a PR supremo while Rosie Boycott and Marsha Rowe worked on the pioneering feminist magazine Spare Rib.
Together, they wanted to showcase the most exciting contemporary women writers, challenge the narrow confines of pale, male and stale literary tradition and bring some of the revolutionary change that was sweeping through the rest of society, "to break a silence, to make women's voices heard, to tell women's stories," as Callil has written.
Virago's first book, Fenwomen by Mary Chamberlain, was published in collaboration with Quartet Books in 1973; in 1977 its first publication as an independent company was Life As We Have Known It by Co-operative Working Women.
Boycott and Rowe moved on and Virago welcomed Ursula Owen, Harriet Spicer and Lennie Goodings to its staff.
2: You wouldn't mess with a virago
Virago was named in a spirit of rebellion, subversion and wit. Dictionary definitions of a virago are amusingly salty: a virago is a "domineering, violent, or bad-tempered woman", a "heroic war-like woman" and according to the thesaurus, a "biddy, bitch, dragon, fire-eater, fury, harpy, harridan, hussy, muckraker, scold, she-devil, siren, spitfire, termagant, tigress, virago, vituperator, vixen, wench."
These were exactly the kinds of epithets hurled, unironically, at women who sought to disrupt the established order; Virago pre-empted and reclaimed the insults with power and humour.
It added fuel to the flames with its bitten-apple logo which evoked Eve in the Bible: either history's first troublemaking female tempting man and plunging humanity into chaos and sin; or a pioneer of curiosity, advancing human understanding by tasting from the Tree of Knowledge.
3: They created design classics
Like the zippy orange spines of Penguin paperbacks, the Edwardian green covers of the Virago Modern Classics line inspire collector-mania among readers.
Virago Modern Classics line launched in 1978, dedicated to rediscovering neglected women writers. Its inaugural publication was the convent-set coming of age tale Frost in May by Antonia White, while the iconic green spines were chosen because of their stately look and because they broke away from gender conventions of blue-for-boys or pink-for-girls.
On the series' thirtieth birthday Virago celebrated women designers as well as women writers, producing hardback editions of novels by Barbara Pym, Jacqueline Susann, Muriel Spark and Angela Carter, amongst others, paired with cover designs by textile designers including Celia Birtwell, Barbara Hulanicki and Lucienne Day.
4: They continue the tradition of women travellers
Virago novelist Stella Duffy's most recent book, London Lies Beneath, is a historical novel set in the slums of London in the early 20th century, seen through the friendship of three boys.
One of the jewels in Virago's crown is the historical novelist Sarah Waters, whose fiction uncovers the hidden lives of women
London Lies Beneath is not a classic 'Virago story' in the way Duffy's novels Theodora and its sequel The Purple Shroud were – they told the scandalous story of a Byzantine prostitute's rise to become Empress – but she follows a Virago tradition of women travellers in mapping out a walk which fans of the new novel can follow as they read, starting at Trafalgar Square and ending at Nunhead Cemetery.
The 1986-established Virago Travellers series launched with A Lady's Life in the Rocky Mountains by Isabella Bird and Travels in West Africa by Mary Kingsley and later reissued writing by travellers including Gertrude Bell and Lady Mary Wortley Montagu.
Stella Duffy's walk may not be quite so world-striding, but it eschews the privilege and Empire-era over-confidence which has sullied the reputations of some of the 'great' women adventurers of yesteryear.
5: They've inspired great TV
One of the jewels in Virago's crown is the historical novelist Sarah Waters, whose fiction uncovers the hidden lives of women: her first novel, Tipping the Velvet, which will celebrate its 20th anniversary of publication next year, revealed Victorian England's cross-dressing lesbian music-hall counterculture.
As well as having won or been nominated for pretty much every major literary prize in the country, Waters has had 100% of her novels adapted for film or TV. The Victorian dramas Tipping the Velvet and Fingersmith and the wartime-set The Night Watch have all been adapted for the BBC and the Victorian prison mystery Affinity was adapted for ITV.
Waters' other novels The Little Stranger and The Paying Guests are being considered for film adaptations by Potboiler Productions – which itself sounds like a Sarah Waters novel.
6: They've stayed at the political cutting edge
Virago published the major feminist thinkers of the 1970s and 1980s, including Kate Millett, poet Adrienne Rich, Eva Figes, Lynne Segal, Sheila Rowbotham, Beatrix Campbell and Elaine Showalter.
They have moved with the times: from 2010 they published Living Dolls: the Return of Sexism by Natasha Walter, as well as the anthology Fifty Shades of Feminism, a reaction to the success of the Fifty Shades of Grey trilogy.
And eighteen months ago the BBC broadcaster and Virago author Sandi Toksvig jumped directly into the political fray, co-founding the Women's Equality Party to campaign for a more equal society.
Virago: Changing the World One Page at a Time is on BBC Four on Monday 31 October 2016, 22:00.
Virago's need to be provocative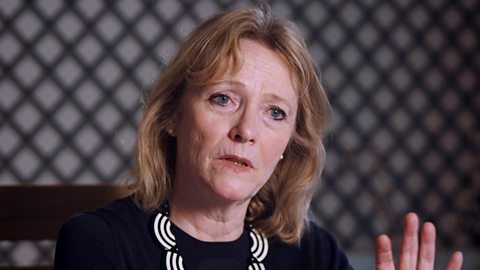 How being bold and provocative helps make Virago stand out from the crowd.
Carmen Callil, one of the original founders of Virago, 2006. Photo by David Lodge/FilmMagic.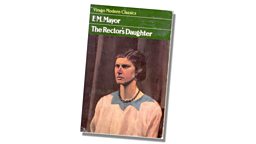 The Rector's Daughter by F.M. Mayor, published as part of Virago's Modern Classics line featuring the distinctive green design style.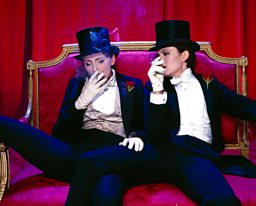 Keeley Hawes as Kitty Butler and Rachael Stirling as Nan Astley in the BBC adaptation of Tipping the Velvet, 2002.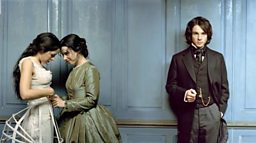 Rupert Evans, Elaine Cassidy, and Sally Hawkins in the BBC adaptation of Fingersmith, 2005.