Main content
Manta rays in the Maldives
Gemma Greene, researcher
Every now and then in this job you get assigned a filming trip that you know is going to be hard to beat - this was one of those trips.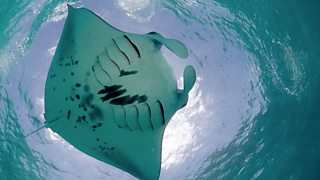 I'd spent several months researching the phenomenon of mass aggregations of manta rays feeding in Hanifaru Bay, in the Maldives, and now I was about to see it for myself, or so I hoped.
We'd arranged our filming trip to coincide with the new moon when lunar tides are stronger and numbers of manta rays reach their peak due to the increase in plankton in the bay. It had been a particularly bad year for manta ray sightings and that first morning we set out nervously to search.
Circling the outer reef wall we kept watch from the top of the boat for the tell-tale dark outline of a manta gliding through the water. We saw the odd one or two on the first day but nothing like the numbers we'd hoped for and certainly not enough to warrant our cameraman getting wet. Disappointed that first night, we could only hope for better luck the next day.
And our luck was in! Sailing into the bay early before any tourists arrived we spotted several dark shapes in the water heading towards us and they just kept on coming. Our cameraman jumped straight in and I wasn't about to miss this opportunity of a lifetime, so followed swiftly.
It's hard to describe what it's like swimming with mantas and I know it sounds corny, but it was truly magical. They are huge and barely pay you any attention as they are busy feeding, so they swim straight at you only ducking to glide underneath you at the last possible moment – intimidating the first time it happens but incredible after that.
While I was concentrating on not getting in shot, wave after wave of manta swam towards us forming feeding chains, about 30 in all. These beasts are totally silent in the water and several times I had no idea one was coming up behind me until it was underneath me, just inches away.
Then the cry went up from our boat "whale shark!" our luck had got even better and a young male whale shark had come to feed on the bounty of plankton in the bay. Oblivious to everyone around him he opened his massive mouth and started to gulp down plankton. I couldn't believe I was within arm's reach of a whale shark with mantas swooping around me. Not only was I in heaven, we also managed to get some great footage for the programme.
After several hours in the water we hauled ourselves back on the boat tired but happy, and in my case very sunburnt on my back!
This was a filming trip I won't forget in a hurry.
See some of the amazing animals the team encountered in the Pantanal making Waterworlds.