Main content
The Fourth Dimension
A Town Called Mercy
A Town Called Mercy had the working title, The Gunslinger. It's the fourth Doctor Who episode to be written by Toby Whithouse, following School Reunion, The Vampires of Venice and The God Complex.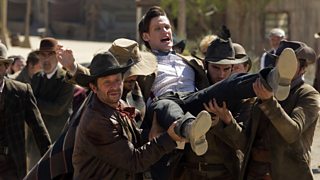 The exterior scenes on the Asylum planet in Asylum of the Daleks were shot in the mountains of Spain when the crew were there to film A Town Called Mercy. Producer Marcus Wilson saw the snow-capped mountain and organised the shoot to take advantage of the natural snow and the striking look of the location.
The episode was filmed in Almeria in Spain. If the set looks vaguely familiar it's because most of the action was captured at Fort Bravo where classics including A Fistful of Dollars and The Good, the Bad and the Ugly were also shot.
This isn't the first time the TARDIS has landed in the Old West. In The Gunfighters, the Doctor visited Tombstone where he met several notable figures from the era including Wyatt Earp and Doc Holliday.
At one point there's a reference to Henry VIII, whom the Doctor previously mentioned in The Sensorites. In that adventure he revealed he had argued with the king as part of a ruse. Years later he met Henry's daughter, Queen Elizabeth I, in The Shakespeare Code.
The first electric street lamps appeared in the US in the late 1870s, but even at that point, such illumination was rare. Electric street lamps did not become commonplace until many years later.
Isaac's appreciation of Jex saving Mercy from cholera is understandable. In the 1800s the infection had brought devastation across the world, killing hundreds of thousands in global pandemics. The pioneering work of John Snow brought notable advances in the fight against it but tragically, cholera pandemics continued well into the twentieth century.
Dominic Kemp (Kahler-Mas) previously appeared in Moses Jones (2009), the BBC drama that was one of Matt Smith's final pre-Doctor roles.
Garrick Hagon plays Mercy's undertaker. Doctor Who fans may recall him as Ky in the Third Doctor adventure, The Mutants. He also played Luke Skywalker's friend, Biggs, in the original Star Wars movie.