Main content
Iconic 90s RPG Final Fantasy 7 returns in a big-budget remake for PlayStation 4
By Jordan Middler // BBC The Social contributor
After first being announced in 2015 at E3, Square Enix's seminal title follows Cloud Strife, a mercenary with a mysterious past as he battles against Shinra, an authoritarian regime ruling the city of Midgar.
This comes 23 years after the original games release for PlayStation One in 1997. The game would quickly become one of the most acclaimed titles in history.
The game has been completely remade from the ground up with 4K visuals and a fully remastered soundtrack from legendary Final Fantasy maestro; Nobuo Uematsu.
Due to the current covid-19 pandemic, the game was actually released several days early in Australia and Europe due to issues with distribution. This led many players to broadcast themselves playing the game on Twitch.TV with titles such as "Love living in Aus".
While Square Enix pleaded with players to avoid sharing spoilers in their announcement of the logistical change, that hasn't stopped online forums being rife with plot details.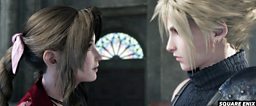 Final Fantasy 7 Remake is the second revival of a classic 90s video game to be released in the space of a few weeks. Resident Evil 3 was released last month and while it did receive a slick new coat of paint, its horror pastiche didn't hold up.
So has the wait been worth it?
Well, I've spent the last week taking in the sights and sounds of Midgar and slaying any monsters that happen to get in my way. After more than 50 hours with the game, it's safe to say that new fans and those of us who've waited for nearly 25 years will be delighted.
With its fantastic combat system, sprawling world and stunning visuals, Final Fantasy 7 Remake completely exceeded my expectations. It sets a new standard for RPGs on PS4 while maintaining the aesthetic and charm of the original. While the voice acting won't win any awards, the story is consistently engaging. For fans of the original or those visiting Midgar for the first time, Final Fantasy 7 is an essential experience.
More gaming from BBC The Social