Main content
Brett Westwood's Guide to International Dawn Chorus Day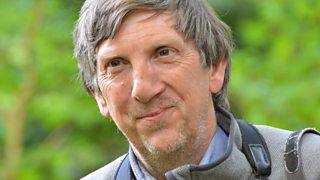 Radio stations across Europe and India are coming together in the early hours of Sunday 7 May to track the sound of birds bursting into song as the sun rises from Delhi to Dublin in a unique broadcast for International Dawn Chorus Day.
Naturalist Brett Westwood and pop star Will Young are taking over BBC Radio 4 from 12.30am to join in the event live through the night with a composition of birdsong, conversation and performance. Here's Brett's guide to what you can expect.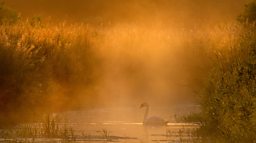 A mute swan at the RSPB's Ham Wall Nature Reserve in Somerset. Photo: Liam Culliford
The midnight hour
For this year's International Dawn Chorus Day, microphones have been rigged in wildlife reserves and cities in India, Malta, Austria, Switzerland and right across Europe to the UK, Ireland and as far west as Canada.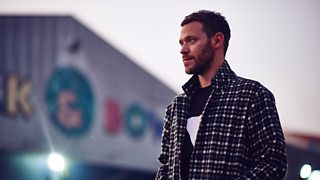 Will Young revealed his natural ambition by saying: "When I get to my late forties, I just want to be the next David Attenborough"
As we come on air just before 12.30am UK time the sun will have been up for around half an hour at the Soor Sarovar Bird Sanctuary near the Taj Mahal and we'll join All India Radio for a vibrant Indian dawn chorus in full voice.
After immersing ourselves in the Indian morning we'll be coming to you from RSPB's Ham Wall Nature Reserve in Somerset.
Though the songbirds will be asleep then, there will be plenty of distinctive sounds to be heard in the early hours like the dagger-billed water rail, which flattens itself to move through the reeds whilst making a shrieking noise called a 'sharming' that sounds like a squealing pig or air escaping from a balloon.
Pre-dawn patience
There was frost on the ground for last year's International Dawn Chorus Day and I got a surprise when one of the first sounds our microphones began to pick up was a throaty chuckling noise. It was Iberian marsh frogs performing an amphibian chorus that gave a low underbelly of bass, providing a consistent bottom-end to our choir for the night.
The frogs were soon joined by the Barry White of the bird world - a star baritone who would not be upstaged by the frog chorus. The foghorn song of a bittern resounding through the Avalon marshes is hard to upstage. This streaky brown bird, more owl than heron, packs on muscle around its oesophagus in spring and this acts like a bellows in creating strange booming notes, amongst lowest of any European bird, which can be heard over several kilometres away. Having not been seen in Somerset for 40 years, two bittern nests were discovered at Ham Wall in 2008 and the population has been growing steadily since so hearing their boom is a treat we'll be hoping for again – let's hope they're not once bittern twice shy.
Not all the birds here are so faithful to reed-beds. In pitch darkness, robins sing as loudly as they do in the middle of town. With luck we may hear tawny owls too.
Ditties in the dark
There are some songbirds that deign to sing in the darkness. In the depths of night last year we were alerted to go over to Radio Vara in the Netherlands where we were greeted with the sweet song of the nightingale.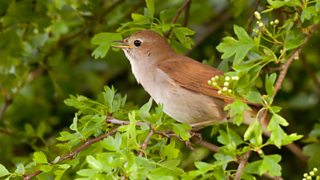 Nightingales are only slightly bigger than robins, but their song is a rich, throaty, versatile and varied sound, ranging from low croaks to high-pitched trills within milliseconds. Few other birds can match it.
We won't hear them at Ham Wall as they don't range that far west in England but if you're in the The Cotswolds, the South or the East of England you might be lucky enough to be serenaded.
One of the most popular BBC recordings of all time is a duet between a nightingale and cellist Beatrice Harrison from her Surrey garden in 1924. It was the first ever live wildlife outside broadcast and so entranced listeners that cello and nightingale concerts were broadcast annually, eagerly awaited by listeners around the globe.
Folk musician Sam Lee has been carrying on the tradition and you can hear him talking to Tom Robinson in a dawn chorus special of Now Playing @6Music on Sunday 7 May from 6pm.
Western awakenings
On paper we would expect that after the dawn chorus in India the next dawn chorus from our network of radio stations would be in Finland, but you can't set your watch by the dawn chorus. Variables such as rain, wind and temperature make it impossible to predict where and which birds will pipe up.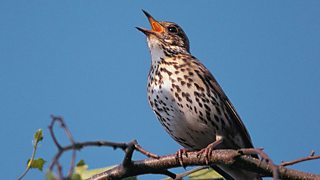 As dawn heads westwards across Europe, we may hear – live – the fantastic song of the capercaillie, a turkey-sized grouse which holds it leks (courtship gatherings) in northern pinewoods. Males strut and pose in front of the brown females while producing bizarre cork-popping and knife-grinding sounds.
Light dawns
The full-throated chorus swells as light appears. Woodland birds like wrens, robins and blackbirds tend to be the first to sing because they have adapted large eyes to help them find insects in the undergrowth. This makes them more sensitive to light so they wake earlier.
As light penetrates the banks of reeds, sedge warblers and reed warblers, fresh in from sub-Saharan Africa, babble frantically from the thickets to proclaim their territories. But their territorial song advertises and betrays them: cuckoos are looking for a nest in which to lay their eggs and the reed warblers' nest is a favourite host. Another sound we'll hear are the reed buntings whose simple songs are like a sound engineer saying "one, two three... testing".
At around 5.30am we'll expect to hear birds that live in more shrubby areas, like the song thrush, the blackcap and the chiffchaff. Then it's not long until we reach our crescendo as the seed-eaters like the house sparrow, goldfinch and chaffinch fill out the choir.
Blackbirds, song thrushes, wrens and warblers will probably make up the loudest and most tuneful members of the avian orchestra, but we have other less tuneful surprises in store. Our partners at RTE in Ireland are bringing us the alien sounds of from heronry in the heart of Dublin, and if we are lucky a rare corncrake on Tory Island in County Donegal.
Bringing it all back home
Derek Mooney from Irish radio station RTE set up this landmark event and we'll be checking in with him for updates on the latest chirrups through the night. He said the anticipation and unpredictability once brought him to tears: "I remember one year crying, and I don't say that lightly – no word of a lie – because it rained more heavily than I've ever experienced in Ireland. The mics were wrecked, the cables were sodden and I was so stressed, but the birds sang. We got a dawn chorus and a rain chorus so we played that out. It was beautiful."
We certainly hope we won't get any rain this year, but we can expect lots of beautiful surprises that will make the dawn chorus worth being up for.
Listen to Brett, Will and the whole Dawn Chorus on Radio 4 from 12.30am on Sunday 7 May, with highlights at 4.30pm and then online.
More birds from Radio 4...