Main content
Honeytrap: The Brixton drama making waves worldwide
7 May 2015
New British film Honeytrap is a tragic teen romance, set in South London and inspired by true events. It tells the story of 15-year-old Layla, who lures a boy who's in love with her into a deadly trap set by her gang leader boyfriend. After premieres at the London Film Festival and SXSW in Texas, it's released in UK cinemas this weekend. Alongside clips from the film, director REBECCA JOHNSON writes for BBC Arts about the challenges of making her debut feature.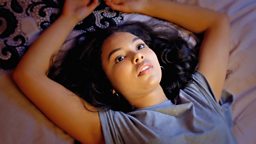 Jessica Sula as Layla
As the credits rolled, a woman gripped my arm, her face creased with emotion. I later found out she was a casting executive at Fox. Two managers from LA were waiting outside the cinema. I would sign with them a couple of weeks later.
Moments like this – at the SXSW film festival, where Honeytrap was having its international premiere back in March – can make me short-circuit emotionally, but I suddenly felt the truth of it intensely: the story I'd been desperate to do justice to was reaching people and moving them.
I felt strongly that the dehumanising media characterisations of children involved in gang violence were dangerous
I have lived in Brixton for 20 years and spent more than a decade working with young people there, making films through my not-for-profit company Fierce Productions.
My breakout short Top Girl explored the theme of girls in a man's world, navigating the tricky waters of the sexual double standard as they came of age.
I knew I wanted to expand on this theme with my first feature and when I came across a South London case in which a young girl had acted as a 'honeytrap', setting up the boy who was in love with her for a gang murder, I realised I had found a story where it played out in the most extreme way.
I felt strongly that the dehumanising media characterisations of children involved in gang violence were dangerous. In this case, the young girl was portrayed as a femme fatale who 'manipulated her sexuality and knew exactly what she was doing'.
She was 15 years old. Children do not understand their sexuality like adults. They do not have the same grasp of consequence or an adult ability for emotional control. We fail them as adults if we do not acknowledge this.
I knew young people who'd been involved in honeytrap scenarios and in serious violence, many of whom I'd grown very fond of. Beneath the bluster, they did not seem hard or inhuman but desperate to belong and to matter – and petrified they never would.
When casting, it was vital to find actors who could convey this complexity. None of the characters in Honeytrap were stereotypes – no one purely good or bad. Everyone had their own story and their own rationale, no matter how flawed.
Watch clips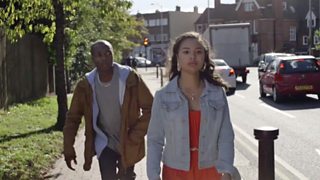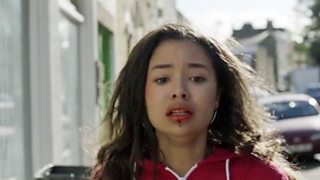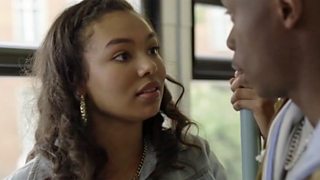 Jessica Sula and Ntonga Mwanza in scenes from Honeytrap. All clips © Anchor Bay 2015.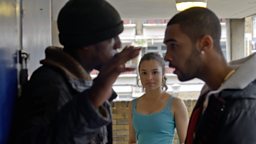 Jessica Sula and Lucien Laviscount (right) in Honeytrap
Jessica Sula – who plays the lead role of Layla in the film – was an incredible find: she had both the hardened survivor's drive and the desperate vulnerability she needed to balance as the character. The film depended on her completely – she was in every scene – but I knew she could carry it.
Others came on board; Lucien Laviscount, utterly convincing as Troy, insecurity showing beneath his fragile top boy status; Ntonga Mwanza as Shaun, grounded and likeable without being soft, unable to resist Layla even as she moves to betray him; and Naomi Ryan, my last-minute godsend, as Layla's estranged, reluctant mother Shiree - in the end, the most important relationship of the film.
But despite the amazing cast, our talented crew and the Brixton community backing us, I was incredibly daunted as we headed towards the shoot. We had so little money that I honestly didn't see how we'd get through the schedule.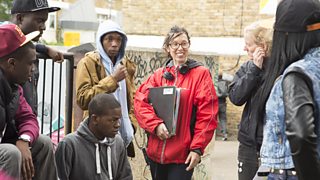 Director Rebecca Johnson on set in Brixton
There were lots of characters, big crowd scenes, moving vehicles and stunts. And even though I'd decided to use the real case as a jumping off point rather than the basis for the film, this was also a story that came with huge responsibility.
Four crazy weeks. Very little sleep. Somehow we did make it through but I was worried the heart of the story may have been lost in the scramble. As we began the edit, I was deeply depressed. And then, three months in, we made a breakthrough – courtesy of my wonderful editor John Dwelly. The story was suddenly there. We looked at each other at the end of the playback with the same reaction at the same time – thank ****!
Seven months later the film got into the BFI London Film Festival and I was nominated for Best British Newcomer. Despite so many moments of doubt, Honeytrap was on its way.
Soon after, I was boarding a flight to Austin, Texas for SXSW, and was overcome by people from all over the US telling me that, despite its London-centricities, Honeytrap told a story they recognised too.
People from all over the US said Honeytrap told a story they recognised too
The LFF and SXSW screenings were amazing but the most important audience was still to come. A few days ago, in the community centre on Stockwell Park Estate in Brixton, where we'd shot the film, nearly 200 people came to see it.
Afterwards I got up to take questions, ready to hear responses without sugar-coating. One woman said she thought the film portrayed Brixton in a negative light. I completely understood where she was coming from but began explaining why I felt this was an important story to tell.
A young woman's voice chipped in that she thought the film was "totally on point". Another agreed and another and suddenly everyone was talking at once. "This is how it is for girls – people need to see." Youth workers and teachers said they wanted to screen it to their young people. A parent whose son had been stabbed thanked me for making it.
I always knew that the community in whose world Honeytrap takes place would be the audience by whom this film would stand or fall. That they support it makes me ready to face anything. Now, as Honeytrap prepares to launch into the wider world, I feel ready to let it go.
Honeytrap opens at cinemas on 8 May and is released on DVD on 25 May.