Main content
An Exclusive Horowitz Horror For 500 Words!
Anthony Horowitz writes his very own 500 Words story!
The amazing Anthony Horowitz - author of The Diamond Brothers series, The Power Of Five and the phenomenally successful Alex Rider series which celebrates 15 years in print in 2015 - has written his very own 500 Words story for the Radio 2 Arts Show and 500 Words! Read it below, and watch the reveal here...
SHORT STORY
She had been on air for one hundred and ninety seven hours.
The police and emergency services arrived twenty minutes afterwards but it was already far too late.

Anthony Horowitz

According to the Guinness Book of Records, the longest broadcast had been made in 2014 by one Giel Beelen, a DJ working in the Netherlands. He had lasted for one hundred and ninety eight hours – or eight full days, attended by two medics, two personal therapists and a personal chef.

Anneka Rice was determined to beat him. She had not left the studio for a full eight days herself and had talked, non-stop about everything from painting and life drawing to Swan Lake, the Oscars and Chris Evan's short story competition which was being announced on Radio 2. She had interviewed Jonathan Miller about King Lear and Jeffrey Archer about his latest bestseller. She had sung the praises of Dr Who, even bringing in three plastic figurines for inspiration. As the studio clock ticked away behind her, she was not looking her best. Her long, blonde hair was hanging in knots. Her eyes were dark, her cheeks haggard. Even her clothes were rumpled and creased. She had all the allure of a professional bag lady.

But she had almost done it! Another two minutes and the world record would be hers. The Book Club producer, Joe Haddow, whose shuffling and bearded exterior belied his great love of culture, sidled into the room, carrying a bottle of Moet champagne. The minute hand clicked forward, one more centimeter nearer the midnight hour.

"So in jus' six'y secon's we smash the worl' record," Anneka drawled, sipping her nineteenth cup of strong black coffee. This is amazin'!"

Nobody ever knew exactly what happened. According to the police report, it was the warm air inside the small studio that had heated up the champagne. Certainly, the producer had been unwise to remove the foil and "muselet" – or safety wire - so soon. But with just half a minute to go, and with a million people listening, the cork suddenly exploded. Warm champagne fountained out, pouring over the microphones and control box. There was a huge flash, a blinding cascade of sparks and every electrical fitting on the fourth floor of the building went dead.

Silence fell.

The emergency lighting kicked in to show a crestfallen Joe Haddow looking at the empty champagne bottle in his hand. Opposite him, the famous presenter stared at him with dawning realization of what had happened. The clock showed two seconds to midnight. Outside, in the production booth, the man from the Guinness Book of Records sadly shook his head.

The police and emergency services arrived twenty minutes afterwards but it was already far too late. Anneka Rice was taken into custody while, at the same time, Joe Haddow was carried out on a stretcher. He had been repeatedly stabbed with a six inch figure of Tom Baker.

And Chris Evans was forced to announce that the short story competition had had to be cancelled – although no-one at the BBC would ever forget this story of the short.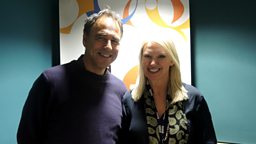 'Short Story' was written by Anthony Horowitz for the Radio 2 Arts Show and 500 Words
Anthony Horowitz Reads His Very Own 500 Words Story!
Author's Live - 15 Years Of Alex Rider