Main content
7 stars reveal how songwriting and music helped their mental health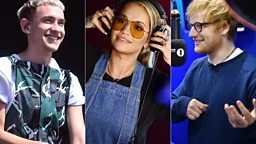 On Radio 1's The Surgery this week, Katie Thistleton and Dr Radha will be discussing how positive an impact creativity can have on mental health.
"Creativity and the arts can be really helpful as a therapy for mental health because it helps you express your feelings and thoughts," says Radha.
"Art therapy, dance movement and music can all be used to help people through difficult emotions.
"It's really healthy for us to get creative to look after our mental wellbeing and it can help improve self confidence and self esteem, as well as help us make friends."
And for many pop stars and musicians, they channel their feelings and thoughts into their music.
Here's what seven stars have to say about how the songwriting process, and keeping creative, has helped them.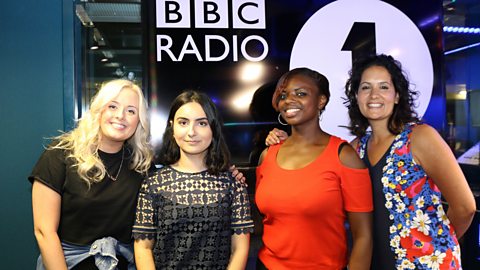 Colouring books, singing, crafting - all of these can have a impact on your mental health
Miley Cyrus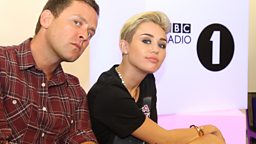 Miley Cyrus has made no secret of how happy she is in 2017, but she has been drawing on previous problems as she writes her sixth studio album.
"It is like having therapy, it will be like a four-hour conversation just to write a song because you just have to go through every detail," she says in an interview with Huffington Post.
"That's kind of how I wrote Drive, not about what I was going through right at that moment but things I had gone through.
"That's even harder because you've got to dig like therapy."
Ed Sheeran writes A LOT of songs (he penned both Liam Payne and Rita Ora's current singles) and he says it's the only thing that makes him feel better when he's down.
"I think any time I've ever got down or ever felt low the one thing that picks me up from that is writing a song about it," he told Kirsty Young on Radio 4's Desert Island Discs.
"At least you've got a positive experience out of a bad experience."
Zayn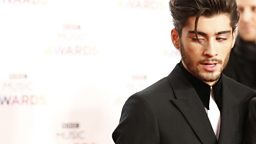 Zayn's anxiety has caused a number of issues during his solo career, with the former One Direction star having previously cancelled live shows due to his mental health.
But Zayn says he finds the songwriting process a positive experience, as thinks it can be positive to relive stressful moments from his past.
"It was fun to reminisce on things and think about what was good and what was bad and make sense of it all," he told New York DJ Elvis Duran.
"I didn't have time to do that in the band."
"I feel like writing anything down is a little bit of a therapy process," he added, suggesting fans do the same with their own problems.
"It's a way of alleviating your mind and getting it out there."
Rita Ora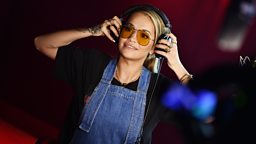 Rita Ora has been hard at work on her second album and during her five year music career says she has learned the importance of being as honest as she is creative.
"I really realised in songwriting, the more open you are the better it is for you," she said in a chat with Notion magazine.
She says she had previously tried too hard to be as strong as her own role models, in life and in music.
"I always thought I had to be this kind of unbreakable person, just because my mum is - she's so strong - and as a woman, I've always thought I had to be like that," she said.
Adele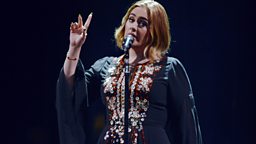 Adele's failed relationships have resulted in almost as much A-grade pop music as Taylor Swift's, but she says writing one song in particular helped her put her hurt to rest once and for all.
"It sounds obvious, but I think you only learn to love again when you fall in love again," she told The Guardian about her song, Send My Love (To Your New Lover).
"I'm in that place. My love is deep and true with my man, and that puts me in a position where I can finally reach out a hand to the ex. Let him know I'm over it."
Selena Gomez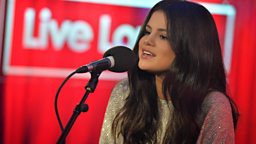 Selena Gomez has dealt with heartbreak and health issues in public and says putting her own personal problems into her songs isn't just good for her, it's important for her fans as well.
"You're sitting there and talking to people about what you're going through, and you're thinking, 'How can we impact somebody? How can we make this a great song? How can people relate to it?'" she said in an interview with Radio Disney.
She says wellbeing and positive mental health is always the forefront of her mind, whether in songwriting or day to day life.
"I wanted to make sure my life was balanced and happy and healthy first," she added.
"You have to be good and take care of yourself. That's what I encourage, I'm always about that. That's the most important thing."
Olly Alexander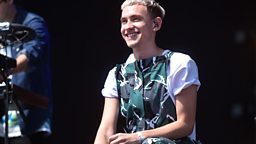 But while many pop stars talk about how writing songs has helped them escape their demons, Olly Alexander from Years & Years wants fans to remember that more serious issues require more serious forms of therapy.
"It's helped me in so many different ways," he told Vice magazine about songwriting.
"It helps because it's who I am. But I'd also love to emphasise that therapy is the best form of therapy.
"We say things like, 'Music is therapy,' but I don't think that's true.
"I think music can be therapeutic and a really positive thing, but that seeing a therapist is the best form of therapy you can get."
Listen to The Surgery on Radio 1 at 9pm on Wednesday
BBC Music is celebrating BBC Music Day 2017 and it's all about the positive power of music. Click here for more information