Main content
A perfect union: The magical marriage of music and the movies
The latest episode of Secrets of Cinema sees Mark Kermode exploring a genre that combines his twin passions of music and movies. Read on to discover how the greatest concert films, biopics and documentaries have produced some of the most emotive moments in popular culture.
Actors as performers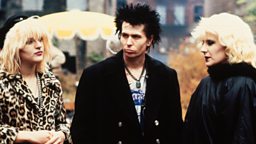 A scene from Sid and Nancy featuring Courtney Love as Gretchen, Gary Oldman as Sid and Chloe Webb as Nancy | Image: Initial Pictures / Entertainment Pictures / Alamy
Actors relish the chance to portray musical icons. As well as the dramatic challenge of taking on a big and complex character, it presents an opportunity to showcase their own musical talents.
Kermode is a fan of Alex Cox's Sid and Nancy, which portrays the relationship between Sex Pistols bassist Sid Vicious and his girlfriend Nancy Spungen.
He says, "What really surprises about this movie, also known as Love Kills, is how oddly tender and touching it is – largely thanks to terrific performances by Gary Oldman and Chloe Webb as the doomed couple."
Kermode is also an admirer of Angela Bassett's "incendiary, defiant performance" as Tina Turner in What's Love Got to Do with It, which explores the turbulent and abusive relationship between the singer and Ike, her stage partner and former husband.
What's Love Got to Do with It
Disclaimer: Third-party videos may contain adverts
The live experience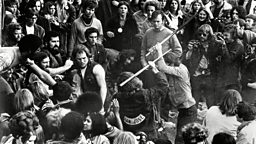 This scene from Gimme Shelter shows members of the Hell's Angels, hired to provide security, attacking the crowd with pool cues at the Rolling Stones concert at the Altamont Speedway, 1969 | Image: PictureLux / The Hollywood Archive / Alamy
Many directors have successfully captured the power of live performance for the big screen, with Kermode highlighting Monterey Pop. D. A. Pennebaker's film of the 1967 Monterey Pop Festival includes legendary performances by some of the era's greatest artists including Jimi Hendrix, Otis Redding and Janis Joplin.
But Kermode's favourite, Gimme Shelter, directed by Albert and David Maysles and Charlotte Zwerin, crosses over into something much more than a concert film.
He explains, "It documents the disastrously ill-judged Rolling Stones concert at Altamont in Northern California in December 1969. There's a sense of impending catastrophe as the band are helicoptered into a volatile mix of hippies and Hell's Angels."
The chaos increases as the film goes on, culminating in one of the cameras capturing the fatal stabbing of audience member Meredith Hunter only a few feet from the stage.
Kermode says, "the movie, which marked the end of the sixties dream of peace, love and understanding, is bookended with shots of Mick Jagger watching this shocking event play out on a Moviola."
Disclaimer: Third-party videos may contain adverts
Real life on the road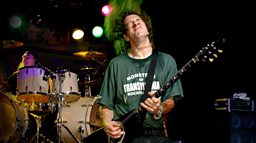 Steve Kudlow on stage in Anvil! The Story of Anvil | Image: Moviestore Collection / Alamy
Kermode reveals in the programme that his favourite real-life rock story is probably 2008's Anvil! The Story of Anvil. While it is a documentary, the parallels between this film and the mockumentary This is Spinal Tap are significant.
He says, "It's uncanny just how much this factual account of a down on their luck Canadian heavy metal band echoes the fictional Spinal Tap's plot and characters. There is a disastrous tour... an ongoing love-hate relationship between two members - all seems lost when the pair's conflict reaches a head. Until, again as in Spinal Tap, the band recover its mojo on stage in Japan."
He also singles out for praise Asif Kapadia's Amy, which makes use of intimate archive footage of the late Amy Winehouse.
"Poignantly, we see Amy at the very start of her career, bright and carefree. This Oscar-winning documentary then traces Amy's highs and lows in a way that echoes the classic pop biopic – except we get to see the events as they actually unfolded.
"Amy presents us with a true to life narrative where, tragically, this brilliantly talented but increasingly hounded heroine doesn't get to overcome her demons in the final act."
Disclaimer: Third-party videos may contain adverts
Singers taking centre stage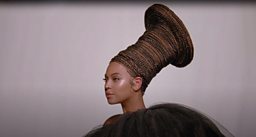 Still from Black is King by Beyoncé | Image: Disney+ / Courtesy Everett Collection / Alamy
Mark Kermode argues that we need to delve deep into cinematic history to trace the roots of the relationship between cinema and pop music.
He says: "For proof, look no further than a remarkable two-reeler from 1929 called St. Louis Blues, starring (American blues singer) Bessie Smith in her only screen role.
"Although the chance to see and hear Bessie Smith singing was the primary selling point of the film - shot in the Astoria district of Queens, New York - it surrounds the song with tension and conflict."
Kermode sees considerable parallels between this and Beyoncé's 2019 visual album, Black is King.
He says: "Two films made nearly a century apart, both showcasing extraordinary black female artists in a perfect union of film and popular music."
Bessie Smith in St Louis Blues
Disclaimer: Third-party videos may contain adverts
More articles from Mark Kermode's Secrets of Cinema
Since the early day of cinema, filmmakers have been exploiting our deepest, darkest and most elemental fears

The common traits of characters and storylines that bring home the prizes at the Oscars

Find out the magic ingredients needed for a classic festive film