Main content
The presenters: Dara Ó Briain and Angela Scanlon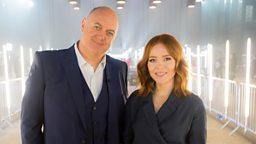 Why do you think people love Robot Wars so much?
Dara: "I think people love the show simply because everything just smashes into everything else and it is sparks and explosions and metal being torn up. It's carnage, who doesn't enjoy that?"
Angela: "And it gets pretty manic, they don't hold back, even when they might have extra battle rounds to go through, they go all in the first round with everything they've got."
Dara: "True, they give their all in the first round and are often still being repaired by the time they need to fight again in round two. Also the human story of Robot Wars is really popular too, a team of three people working together in a shed; fans who have put months of time, effort and passion into it, but then their appearance on the show lasts 40 seconds because they drove their robot into a pit."
Angela: "Especially when they've re-mortgaged their house to build the robot of their dreams and then BOOM, it's all over, just like that."
What was the atmosphere like during filming?
Dara: "The atmosphere is brilliant, the crowd are chanting the names of the House Robots, shouting and cheering and wearing foam fingers and screaming for Sir Killalot!"
Angela: "The crowd are cheering for the House Robots more than anyone else, they really get behind them, and it's so great!"
Who's your favourite House Robot?
Dara: "I haven't chosen one because I feel you shouldn't get too close to them; that way, when they die it's not as much of an emotional wrench."
Angela: "I'm going to stick with the girl and go for Matilda or 'Tilly' as I like to call her. She's got a neon pink tail and great big eyes."
Were you a fan of the original Robot Wars?
Dara: "Yes but I wouldn't know the lore of it, all the history of the robots who came before, and real fans do. I liked it, don't get me wrong, and I watched some of the old episodes recently and enjoyed them again but I would stop short of calling myself a "fan" mainly because the bar is set pretty high on what being a fan of Robot Wars means. Frankly, judging by the teams who are competing this time around, if you didn't actually build a robot after you saw the show, then you can't call yourself a true fan."
Angela: "Since the announcement that Robot Wars was returning, people are genuinely excited for it coming back, fans aren't like 'oh it's just another reboot' but 'oh my god we've been waiting for this for 15 years and literally cannot wait!' So yes, and hopefully we don't mess it up, there is a really big love for the show."
What's different about the new Robot Wars?
Dara: "One major thing about the new Robot Wars is that if you put any of the old House Robots in the pit with the ones that feature now, they would last about eight seconds because things have moved on. The House Robots grip harder than they used to, they smash further, they move quicker, they are terrifyingly bigger and heavier than the first time round. But then, aren't we all?"
Angela: "It's also a very family affair this time round, there is a little girl aged seven who has built a robot with her dad and there are other father and son teams too. There is even a team consisting of mum, dad, son and the son's fiancé, now that shows a real commitment!"
The full story from February 2016 on BBC News.

In each round, the robots fight in a timed battle. But there's so much more to it...
Angela Scanlon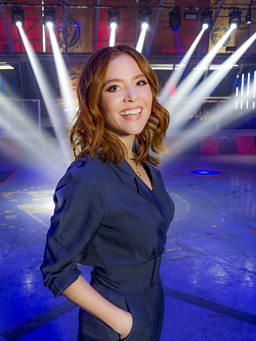 Dara Ó Briain