Main content
The Lemon Tree Trust Garden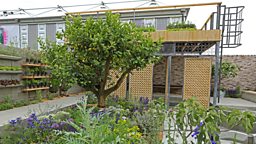 The garden is inspired by the resiliency and determination of people in situations of forced migration and displacement. Their ability to make the most of harsh living conditions and landscapes, and their dedication to create gardens and beautify their limited personal space is profoundly inspirational.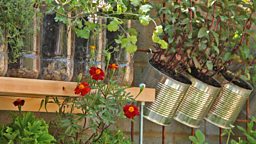 An 'innovation wall' is filled with everyday objects, like tin cans and plastic bottles, re-purposed to grow plants. These ideas were sourced directly from refugee gardens in the Domiz camp of northern Iraq but would be equally relevant for gardeners with small plots or limited space in the UK.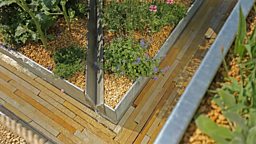 Cooling and calming water flows
 throughout the space, collected in channels and pools, recycled and pumped back through the brimming central Islamic inspired fountain, representing the importance of grey water reuse in the camps and simulating those that many refugees have built in their own spaces in the Domiz camp.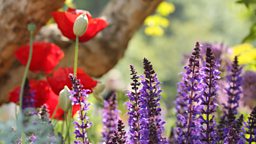 The planting includes edibles and herbs used in Middle Eastern cooking, some of which will be unfamiliar to a western audience. The gravel garden planting is also drought tolerant and designed to survive the harsh environment of the region. With climate change and increasing droughts in the UK, resilient and drought tolerant planting is increasingly relevant to UK gardeners.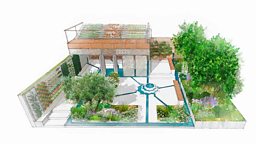 Designed by Tom Massey
This design simulates a garden that would be used by families in a community of refugees displaced in Domiz camp in northern Iraq, providing a way to bring order to a chaotic situation, as well as a space to come together as a community and to learn about horticulture and water retention.