Main content
Life Hacks and A Gay & A NonGay have answered your mental health and LGBT questions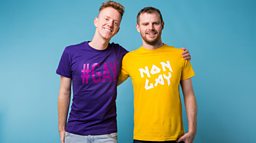 If you've ever had a burning question about relationships, growing up LGBT, coming out, or simply navigating your way through the world, Life Hacks and A Gay & A NonGay are here to help.
On some special, collaborative podcasts, James and Dan have teamed up with life advice expert Dr Radha to give listeners the advice they need.
Who are A Gay & A NonGay?
James Barr is a gay, Dan Hudson is a non-gay. Together, they have been sharing their different perspectives on the UK's #1 LGBT+ podcast A Gay & A NonGay, where no topic is off limits.