Main content
Introducing the people of Guédelon Castle
Meet the small army of stonemasons, blacksmiths, carpenters, wood-cutters, tilers, rope-makers and dyers resurrecting the crafts and methods in an age before mechanisation.
Philippe Delage (aka Gandalf!), stonemason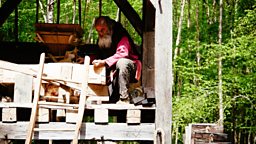 In his own words
Working on this medieval building site has allowed me to work with stone: to master its properties and go further than I could ever have hoped.
After working as a builder all of my adult life, I arrived at Guédelon 12 years ago. It is difficult to pin down one particular memory, but the role I played in the construction of the water mill is one high point.
Martin Claudel, blacksmith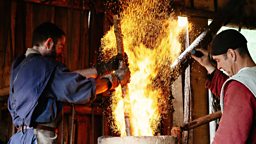 In his own words
The most satisfying thing about working at Guédelon was undoubtedly having the opportunity to make tools – whether for stonemasons or woodworkers – which would really be put to use
I worked as blacksmith at Guédelon for four years and have now set up my own business as a traditional toolmaker.
Jean-Paul Masseron, stonemason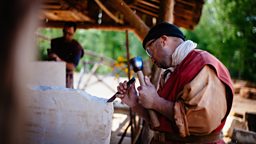 In his own words
Working at Guédelon has completely transformed my way of looking at castles and cathedrals: I feel closer to our medieval forebears.
I have worked here for 14 years. I did train to be a mechanic but I missed Guédelon and chose to come back. My best memory is the building of the first vault in the Chapel Tower.
Karin Grunau, dyer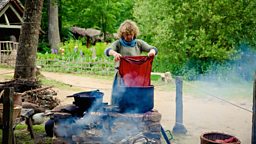 In her own words
It was a dream of mine to work at Guédelon and one of my best memories is that of the day on which I learnt that I had been given a job here and a place in this team.
I have worked as dyer in Guédelon forest for the past 4 years. I am proud of the fact that I have been able to master the art of dying wool with plant-based dyes.
Clément Guérard, stonemason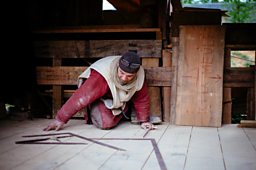 In his own words
I have so many good memories it is hard to choose just one and anyway at Guédelon we are always looking forward. I am particularly proud of the work that I've done on the Chapel window this year.
I have worked as a banker mason at Guédelon for 16 years. It is rare for castle-builders to try their hand to such delicate stone carving. Guédelon has also given me the opportunity to learn new skills such as blacksmithing.
Yvon Herouart, rope-maker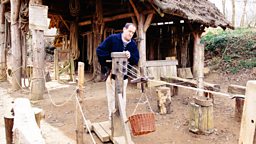 In his own words
My best memory of my years at Guédelon was meeting the former rope-maker who passed on to me all his knowledge of his trade and also of plants. What I enjoyed most in my work was meeting people and having the chance to live "a life less ordinary"
Now that I've retired, I will take time to relax at home and among other things cut wood, enjoy walks in the forest and of course go back to visit Guédelon.
Sophie Wintzer, carpenter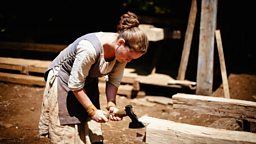 In her own words
My best experience at Guédelon, so far, must be my involvement in the building of the mill. Building a wooden mechanism and then seeing it actually working has been an incredible experience.
I've worked at Guédelon since July 2013. When the season at Guédelon comes to a close, I work as a traditional carpenter-joiner for 2 months and I travel for the other three: to the Caribbean last winter and to India this year.
Sarah Preston, press officer
In her own words
One of the best experiences has been watching the French construction team and the Anglo-Scottish television crew work together with such mutual respect
I have worked at Guédelon since 2006. Working here has allowed me to dive into a fascinating period of history and appreciate the heritage skills needed to build the castles, churches and cathedrals of the past.