Main content
15 albums that define 1995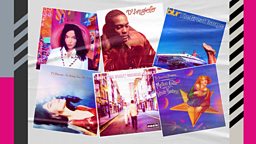 By Jamie Milton and Luke Morgan Britton. Updated April 2021.
But which year from the 90s saw the best albums released?
1995 was the year that saw Blur and Oasis engage in the Battle of Britpop, Smashing Pumpkins release their magnum opus, while there were also career highlights from Garbage and PJ Harvey, D'Angelo spearhead the neo-soul movement, plus much more.
Take a look at some of the most seminal records from 1995 below...
From 90s indie and Britpop to drum & bass and rave - there's plenty to explore in these special 6 Music 90s mixes.
Björk - 'Post'

After the success of her first solo work, 1993's 'Debut', Björk's next move signposted the experimentalism that has defined much of her career. But for every daring nod to London's club culture on 'Post', or its host of forward-thinking collaborators (Tricky, 808 State's Graham Massey), the record also boasts her biggest chart-bothering hits. 'Army Of Me' signalled her intent to turn pop inside out, and her big band cover of Betty Hutton's 1951 song 'It's Oh So Quiet', and its Spike Jonze-directed video, shot the former Sugarcubes singer right into the spotlight, to the point where she had to retreat to Spain to record follow-up 'Homegenic'.
'Post' is the sound of a young creative immersing themselves in new spaces and experiences. It marked Björk's move from Iceland to London (indeed, the album title is a nod to her writing back home), where she dived headfirst into a faster way of life. 'Debut' has a dance sensibility, but 'Post' takes in techno, house, trip-hop; like a stumbling club-goer hopping from one venue to the next in the space of 46 heady minutes. "I've got very many sides to me," she told i-D magazine in 1995. "I think everyone has got a thousand sides to them. It's called being human. Nature gave us that kinda complexity. Most people pretend they're only one thing—like : "cool" or "intelligent" or "stupid" or "caring". But I think everyone [is] all of these things, including me."
Blur - 'The Great Escape'

Britpop was at its peak in 1995. It was the year, after all, that we saw Blur go head-to-head (and prove victorious) against Manc rivals Oasis in the UK Singles Chart. But it was also a 12-month period that was vital for Blur as a creative force too ,releasing the follow-up to their all-conquering 'Parklife', concluding their so-called 'Life Trilogy', which started with 'Modern Life is Rubbish' and ended with 'The Great Escape'.
The release of the Essex band's fourth album would send the music press into a dizzy state. NME called it a "near masterpiece", while Melody Maker threw caution to mathematical logic by awarding the LP seven stars, plus an alternative rating of 12 out of 10, labelling it "absolutely bloody f***king essential", "better than Parklife," and adding: "Blur's rivals may consider the ante officially upped". However, as the dust settled, so came a harsh re-evaluation of the record, with Q Magazine subsequently issuing an apology for their own five-star review.
The truth though? While few fans would now argue 'The Great Escape' to be the band's supreme masterpiece, it was nonetheless a perfect conclusion for the first chapter of the band's career, continuing the sharp social commentary and end-of-century malais of their previous LP, but with the pop and glossy production increased, before their sound took a more experimental turn on the records that followed.
The Chemical Brothers - 'Exit Planet Dust'

Right from the get-go of The Chemical Brothers' debut 'Exit Planet Dust', Ed Simons and Tom Rowlands spell out their mantra of bringing big beat to the masses. The pair's skill for crowd-pleasing, dynamically-produced euphoria is ever-present in opener 'Leave Home' – all sense-assaulting percussion and ferocious guitar licks – and it's barely taken a breather since.
Simons and Rowlands were well placed to make a record that straddled acid house, rave culture and festival-ready frenzy. Signed to Andrew Weatherall's Junior Boy's Own label, their reputation grew in the early to mid-90s via high profile remixes of The Prodigy's 'Voodoo People' and Primal Scream's 'Jailbird'. If you knew, you knew. But after ditching previous moniker The Dust Brothers due to a US act having the same name, 'Exit Planet Dust' launched the pair into the mainstream. By summer 1996, they'd find themselves supporting Oasis at their history-making Knebworth gigs. Such was the The Chemical Brothers' knack for party-starting steamrollers, the Gallagher brothers couldn't have picked a finer warm-up act.
D'Angelo - 'Brown Sugar'

Musicians' reaction to the term "neo soul" has always been mixed. Erykah Badu told The New York Times in 2008 she "hated" having her music classified as such, "because what if I don't do that anymore? What if I change? Then that puts me in a penitentiary?" Regardless, if one album is considered to have spearheaded the movement, it was D'Angelo's 'Brown Sugar'. The Virginia musician's debut is defined by organic instrumentation and its nods to traditional RnB, but it sounded – and still sounds – remarkably fresh and forward-thinking.
As well as pushing boundaries, the record is an exceptional feat in self-sufficiency; mostly written, produced and arranged by D'Angelo himself in his mother's Richmond, Virginia bedroom. Its success threw him far from home, however, and he became something of a recluse. 2000's 'Voodoo' was another triumph, battling writer's block and a distaste of the fame circuit. And fans would have to wait 14 years for a follow-up; the equally-evolutionary 'Black Messiah'. Every one of D'Angelo's moves has been perfectly calculated – they just happen to arrive in his own time.
Elastica - 'Elastica'

"It's imperative that you should be written about for your music," Elastica frontwoman Justine Frischmann told Melody Maker before the release of her band's debut album, explaining a six-month hiatus she took from performing or giving interviews. Due to Frischmann's former role in Suede and her heavily-publicised relationships with Brett Anderson and Blur's Damon Albarn, the band had already been regulars in the music press even when they only had a handful of singles to their name. However, according to Frischmann: "We needed to go away and prove ourselves."
The band's debut - self-titled after a Melody Maker competition to name the record, which came up with suggestions such 'Edible Liar', was ultimately rejected by the group - proved they were much talked-about on merit. The LP went straight to No.1 and became, at the time, the fastest-selling debut record since Oasis' 'Definitely Maybe', released the year prior.
Sardonic, scuzzy and full of swagger - it had all the hallmarks of what made the Britpop scene so exciting at the time. Not that Frischmann could see any sonic similarities with her peers, as she later bluntly put it: "We loved a lot of the English punk stuff, but we were also influenced by the early 80s new wave stuff from New York. It was irritating to be lumped in with Oasis. None of us liked their music. I remember being confused when I first heard them – it sounded like classic-rock power ballads."
Garbage - Garbage

By 1995, Butch Vig could pretty much do as he pleased. Having worked with the entire who's-who of the grunge and alt-rock scenes (Sonic Youth, L7, The Smashing Pumpkins and, of course, Nirvana), it became clear he was prone to the odd left-field move too, as shown by his collaborations with hip-hop group House of Pain and folk-ish acts like Freedy Johnston.
But having "got bored spending so many years recording really fast, straightforward punk records", he decided next he wanted to form a band that would be studio-based and allow him to experiment in loops, samples, sound effects and overdubs. On Garbage's self-titled debut, the production is impressive, immediate and innovative - from the interchanging highs and lows of 'Supervixen' to the warped and ringing 'Queer'. But it's Shirley Manson that truly steals the show on the record, one that birthed a modern rock frontwoman.
Goldie - 'Timeless'

When Goldie named his debut album 'Timeless', was it gall, a gamble, or just certainty informing his decision? Did the drum and bass pioneer see his future influence as plain fact? There is no doubt that his first work has aged gracefully, spawning countless spin-off genres, but there is something admirable in how much this then 29-year-old believed in his music.
"I always knew that 'Timeless' would be exactly what it said on the tin," he told FACT Magazine in 2015. "I say this not to be arrogant, but as an artist who worked his way up and as someone who was always an observer." He grew up on sound system parties, jazz and reggae; the "DNA of drum & bass", in his words. 'Timeless' marked a landmark moment for the genre. Not only did it bring DnB to a new audience, it gave the genre heart and feeling (in no small part thanks to the late Dianne Charlemagne's vocals), merging grand soundscapes with signature breakneck-speed beats. This sound was malleable, all-encompassing, anything but a fad. In other words, timeless.
Leftfield - 'Leftism'

90s dance music, for all its wide scope, lacked an album like 'Leftism' until 1995. Trip-hop took up the critics' spotlight, Björk pushed every boundary in sight, the aforementioned Chemical Brothers – alongside The Prodigy and Orbital – blew the masses' minds. Yet there was nothing quite like Paul Daley and Neil Barnes' landmark LP, which embraces the more trance-like ends of dance ('Space Shanty'), as well as dub and chill ('Melt'), all underscored with a punk ethos. John Lydon clearly saw kindred spirits in Leftfield when he lent his vocals to the feverish, top 20-charting 'Open Up'.
'Leftism' missed out on 1995's Mercury Prize to Portishead's 1994 LP 'Dummy' (although Barnes' daughter, Georgia, is up for the 2020 award with her 'Seeking Thrills' LP). But it ought to be remembered for taking progressive leaps at a time when dance was splintering into manifold brilliant forms.
Oasis - '(What's The Story) Morning Glory'
"Blur won the battle, Oasis won the war," Blur bassist Alex James later admitted of the two acts' infamous Britpop chart battle of 1995, then going on to not so modestly add: "Then Blur went on to win the whole campaign." While many will debate the latter part of James' assessment, it's hard to argue the first bit. 'Country House' may have pipped 'Roll With It' to top spot, but Oasis' album from which it was lifted, '(What's The Story) Morning Glory?', would be nothing less than a cultural phenomenon - the best selling album of the 90s in the UK, having sold close to 5 million copies to date.
The Gallagher brothers and co. managed to retain the rock-n-roll swagger of 'Definitely Maybe' but super-size it, bringing in grand string arrangements, leaning into timeless songwriting and providing choruses simply made for mass stadium singalongs. Classics like 'Wonderwall', 'Champagne Supernova' and 'Don't Look Back In Anger' still have that same irresistible, undeniably rousing quality to this very day.
Pavement - 'Wowee Zowee'

Unlike many of the other albums on this list, Pavement's third album, Wowee Zowee, was not immediately well received upon its initial release. The Guardian gave it one star, while Rolling Stone magazine labelled it "half-baked" and "sloppy". "At the time, people were a little confused by the record," guitarist Scott Kannberg later recalled to SPIN.
As if signalling from the get-go that the LP would be a departure and a bit of a left-turn, it opens with 'We Dance', a slowed-down, strung-out waltz of a song that sees the slacker-rock outfit's usual scuzzed-out reverb replaced by patient, languid acoustic guitar, and frontman Stephen Malkmus' vocals veering into an odd British twang. It gets odder too - elsewhere, 'Father to a Sister of Thought' sees Pavement venturing into pedal steel country terrain, while 'Half A Canyon' descends into anarchic noise, and the band working a theremin into proceedings on 'Motion Suggests'.
It's an unpredictable and deliberately messy listen, but one that has led the record to become a cult classic. "As time has gone on, people have really come to consider 'Wowee Zowee' to be one of their favourites," Kannberg went on to explain. Given that the band have said that they wanted the album's tracks to be able to be played in any random order, you could see the album as having somewhat foreseen the advent of playlist shuffling too.
PJ Harvey - 'To Bring You My Love'

"I can make an album which people will, frankly, embrace - yet I've done exactly what I've wanted to do, and make a record which is as perverse as I wanted to make it," PJ Harvey told i-D Magazine upon her third album's release in 1995. Following two critical smashes in the form of 1992's 'Dry' and 1993's 'Rid of Me', Polly Jean ditched her rough and raw alt-rock sound for one that was a great deal grander, murkier and much more theatrical.
On 'To Bring You My Love', Harvey took centre stage, replacing her two former bandmates Steve Vaughan and Rob Ellis and reinventing herself under a new persona - what i-D's interviewer at the time would describe as "that of a cracked, disturbed torch singer, peering at the world from under a thick application of garish, Norma Desmond war paint". The album, the first with a pair that would become long-time collaborators in John Parish and producer Flood, would also signpost the kind of enduring artist that Harvey would become, one that would continue to reinvent herself album after album.
Pulp - 'Different Class'

Blur and Oasis may have dominated the headlines in 1995 for their Britpop head-to-head in the Singles Chart, but it was a career-defining year for Pulp too. While Blur's 'Country House' may have made it to No.1 spot on 14 August 1995, it would ultimately be Jarvis Cocker and his band of art-school outsiders whose No.2 single a few months prior would turn out to be the genre's definitive song that year.
Anthemic, acerbic and coming with its very own dance routine, 'Common People' would later be named as the Best Britpop Anthem by 6 Music listeners two decades later, Steve Lamacq would go on to say: "It seemed to sum up a feeling of 'us and them', as if to illustrate how the indie mavericks had taken on the pop stars and - for once - they'd won."
But 'Different Class', Pulp's fifth full-length, was a great record from start to finish too - from the galloping 'Mis-Shapes' to the rousing 'Sorted For E's and Wizz' (the subject of tabloid newspaper fury) to the rose-tinted balladry of 'Bar Italia'. And how could we forget 'Disco 2000'? A song about the perils of growing old that still managed to be an almighty singalong. The album would ultimately take the band to a whole new level as well. Smart, sardonic, playful and nostalgic, it was a masterful record that blurred the lines between pop and indie, peaking at No.1, earning the band a Mercury Prize win in 1996 and transporting the Sheffield natives to the top of Glastonbury's Pyramid Stage.
Radiohead - 'The Bends'

Before Radiohead went fully stratospheric with 'OK Computer', they released another classic – 1995's 'The Bends'. The two records share a progressive pulse and a deep unease about the modern world. But where 'OK Computer' is all space-age art rock and timeless paranoia, 'The Bends' dips its toes in feedback-lined guitars and the heady spirit of Britpop – although Thom Yorke and co. would likely crease at the mention of it.
Unlike Britpop's mad fer it ringleaders, however, 'The Bends' is caught up in frustration and near-crippling sorrow. In other words, it's not exactly 'Roll With It'. The gorgeous 'Street Spirit (Fade Out)' is embroiled in its own sense of mortality, while 'Fake Plastic Trees' became a crowning moment of the band's historic Glastonbury 1997 set.
It's notable that 'The Bends' marks the first time Radiohead worked with two long-time creative partners who remain trusted allies: Engineer Nigel Godrich and artwork designer Stanley Donwood. The band were just on the cusp of discovering their true identity, a far cry from breakthrough single 'Creep', but still a million miles from the game-changing experiments of 2000's 'Kid A'. This record marks the moment they assembled all the right tools to become a truly once-in-a-lifetime band.
Tricky - 'Maxinquaye'

Leaving Massive Attack to pursue his own career, Tricky's first solo move was a masterstroke. 'Maxinquaye' (named after his late mother, Maxine Quaye) is defined both by its mischievous defiance of being pigeonholed, and by the dynamic vocals of then-teenager Martina Topley-Bird, who Tricky reportedly found singing outside his house by chance.
25 years on, 'Maxinquaye' still sounds contemporary, brimming with ideas that have slowly diffused through the underground in the decades since. The swampy production on 'Ponderosa' shares traits with modern day, lo-fi hip-hop, and the sample-heavy routines of 'Aftermath' and 'Overcome' continue to sound fresh-faced in 2020. It earned album of the year accolades in NME, Melody Maker and The Wire magazine, as well as a Mercury Prize nomination.
Various - 'The Help Album'

In September 1995, several of the UK's biggest musicians joined forces at Abbey Road to record a one-of-a-kind charity album. 'The Help Album', spearheaded by Andy Macdonald and Tony Crean of Go! Discs and produced by Brian Eno, was inspired in part by John Lennon's 1970 single 'Instant Karma!', which went from conception to release within 10 days. 'Help' went one step further, recorded on Monday 4 September 1995, and available in record shops by Saturday 9 Sept. The album raised funds for War Child, providing aid to children and families in war-torn countries such as Bosnia and Herzegovina.
It remains a striking, cohesive listen. Radiohead's 'Lucky' (a future highlight of 1997's 'OK Computer') was recorded in just five hours. Elsewhere, Paul Weller joined forces with Paul McCartney and Noel Gallagher – under the guise Smokin' Mojo Filters – to cover The Beatles' 'Come Together'. Portishead delivered the stunning 'Mourning Air', which would go on to appear on their self-titled 1997 LP. And Manic Street Preachers brought new meaning to Hal David and Burt Bacharach's 'Raindrops Keep Fallin' on My Head' with a show-stopping cover. James Dean Bradfield later told The Quietus that it marked "some kind of new beginning" for the band, following the disappearance of guitarist Richey Edwards and the group's subsequent decision to continue. "[...] it forced us to get started," he added.
And 20 more Honorable mentions...
Autechre - 'Tri Repetae'
An evolutionary moment for glitchy IDM, Rochdale innovators Autechre's third album insisted on being played via vinyl, claiming it would be enhanced by "surface noise". For all the floor-shaking bass and juddering beats, it's remarkably listenable.
Black Grape - 'It's Great When You're Straight… Yeah!'
Five years on from the Happy Mondays' baggy peak, 'Pills 'n' Thrills and Bellyaches', came Shaun Ryder and Bez's straight-laced triumph. This funk-doused debut kicked off the second half of the 90s with a bang.
The Cardigans - 'Life'
Smartly-constructed, sunny pop arrived in spades throughout the 90s thanks to these Swedes. Former metalhead Peter Svensson and Magnus Svengingsson swapped air guitar for pristine songwriting, and this UK debut release – led by Nina Persson's untarnished vocals – was a worldwide success. It contains songs from the group's 1994 Swedish debut, 'Emmerdale'.
The Charlatans - 'The Charlatans'
The best response to a stuttering career and an unfortunate public perception as Madchester also-rans? Well, a stunning and self-assured self-titled LP that expanded their baggy sound with huge hooks and free-wheeling instrumentals.
Echobelly - 'On'
Britpop gems who arguably deserved more chart success, the Sonya Madan-led Echobelly soared on their third LP, a blisteringly-paced exhibition in pin-sharp songwriting.
Elliott Smith - 'Elliott Smith'
An often-overlooked entry in the late singer-songwriter's stellar back-catalogue, this 1995 self-titled album sees Smith at his most intimate. The sparse and minimal production - Smith mostly just backed by stripped-back acoustic guitar - allowing greater focus on the cult performer's plaintively profound lyrics and devastating delivery.
Fugazi - 'Red Medicine'
Determined to break down sonic boundaries, the ever-defiant Fugazi added ambient rushes and off-base noise to their armour on a fascinating fourth album, which hasn't aged a day.
Genius / GZA - 'Liquid Swords'
GZA's place in Wu-Tang Clan was always that of a wiser elder - older, calmer and less prone to steal the show than his counterparts, but always quietly brilliant in his rhymes. On 'Liquid Swords', he allowed the limelight to prove what such a great lyricist he truly is.
Massive Attack V Mad Professor - 'No Protection'
Massive Attack have never hidden the influence of dub on their music, so it made sense for the band to enlist the renowned Mad Professor to remix their work. After hearing his rewiring of just one of their tracks, the Bristol band then commissioned an entire album of reworks, which might just be more mind-bending than even the original.
Mobb Deep - 'The Infamous'
'The Infamous' was almost an album that never happened. The Queens hip-hop duo had suffered embarrassment after a disappointing debut, which led to them being dropped by their label. Fired up and galvanised though, they returned with a supreme second record that was darker - presenting a honest portrayal of the Queensbridge neighbourhood they called home - and sonically striking, with obscure samples that still have fans debating over their origins.
Method Man - 'Tical'
After their seminal debut 'Enter the Wu-Tang: 36 Chambers' in 1993, Wu-Tang Clan had plans for each member to release a standalone solo record. Method Man's 'Tical' was the first, and had hallmarks of everything to love about the group: sharp lyrics, enthralling production and the odd bit of dark humour.
Paul Weller - 'Stanley Road'
'Stanley Road' marked Weller's most successful solo album since The Jam, and for good reason: He retraced his musical lineage, naming the LP after a street in hometown Woking, and emerged with a masterclass in timeless, blues-swept songwriting.
Raekwon - 'Only Built For Cuban Linx'
A pioneer of 'mafioso rap', this landmark solo debut from Wu-Tang Clan's Raekwon went on to influence the likes of Jay-Z, Nas and more, thanks in no small part to the Staten Island MC's vivid storytelling, cinematic pomp and intricate flows.
Sleater-Kinney - 'Sleater-Kinney'
The full-length debut from the punky Olympia three-piece was recorded in just one night, while co-lead frontwomen Corin Tucker and Carrie Brownstein were on a trip to Australia. The sense of urgency is palpable, but it's the band's wry, sardonic and subversive lyrics that set them apart from the macho-dominated scene of the time.
Sleeper - 'Smart'
A lucid dream of fuzzy guitars, soaring melodies and Louise Wener's astute social commentary, 'Smart' remains a standout Britpop moment worthy of revisiting.
The Smashing Pumpkins - 'Mellon Collie and the Infinite Sadness'
Billy Corgan's true magnum opus, Smashing Pumpkins' third album was vast in scale (28 tracks in total) as well as scope (split into two parts, it thematically runs like the passing of a day). Over the two hours, Corgan's band manage to veer from angsty ('Zero') to hopeful ('Tonight, Tonight') to bleary-eyed and nostalgic ('1979').
Sonic Youth - 'Washing Machine'
'Washing Machine' was the Sonic Youth album that combined the two very distinct modes of the band: the experimental, avant-garde side and that which were comfortable leaning into more immediate pop hooks. Don't expect a 'SY goes pop' album though, it still manages to end with a 20-minute song.
Supergrass - 'I Should Coco'
An attitude-stuffed debut built on a DNA of punk, ska and frenzied rock 'n roll, the platinum-selling 'I Should Coco' put Gaz Coombes and co. on the map, in part thanks to smash hit single 'Alright'.
Teenage Fanclub - 'Grand Prix'
Power pop proficiency up there with 1991's 'Bandwagonesque', Teenage Fanclub's fifth album packs some of the band's finest moments: The rollicking 'Sparky's Dream' and the divine 'Mellow Doubt' to name a couple.
The Verve - 'A Northern Soul'
Before the whirlwind success of 1997's 'Urban Hymns', Richard Ashcroft and co. refined their focus on this ambitious second album, in which the frontman's emotionally-ravaged delivery is elevated by skyscraper guitars.
On Thursday 22nd April, 6 Music travels back in time again for 6 Music Goes Back To The 00s. Tune in to 6 Music and listen on demand via BBC Sounds
From 90s indie and Britpop to drum & bass and rave - there's plenty to explore in these special 6 Music 90s mixes.
Discover classic 90s albums