Main content
Pasta Fagioli (Pasta with Beans)
Pasta Fagioli (Pasta with Beans)
Pasta Fagioli (Pasta with Beans)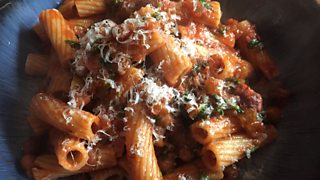 100g diced pancetta
1 tablespoon olive oil
2 sticks celery, chopped finely
2 small onions, finely chopped
2 cloves garlic, minced
150ml red wine
200ml beef stock
500ml passata or tinned chopped tomatoes
Fresh chopped basil
2 tins borlotti beans, drained and rinsed
350g dried pasta
Fresh grated parmesan
Cook the pancetta gently in a large pan over low heat to render the fat until golden.
Add the oil, celery, onions and garlic and cook gently for about 15 minutes, stirring occasionally or until soft and golden.
Add the wine and cook for 5 minutes.
Add the passata and stock and simmer for 45 minutes. Add the beans and cook for 5 minutes.
Check seasoning.
Cook the pasta to al dente and mix into the sauce with the basil.
Spoon into bowls and top with parmesan.