Main content
'Stretching the flag': Riz Ahmed on reframing British Asian life
A lot of actors would be delighted to have made it into hit Hollywood movie franchises like Star Wars and Bourne. But Riz Ahmed is not stopping there. He's been opening up to Nikki Bedi about his career, which includes music, screenwriting and directing in addition to high-profile screen roles, and reflecting on the impact of growing up as the son of Pakistani-immigrant parents.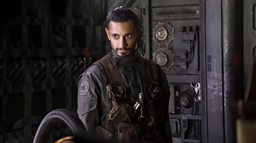 Riz Ahmed as Bodhi Rook in Rogue One: A Star Wars Story | Image: Entertainment Pictures/Alamy
For Riz Ahmed, growing up as a British Asian was something of a training ground for a career as an actor. He told Nikki Beddi: "I definitely grew up code-switching, as they call it here in America, or as I thought of it, kind of being a chameleon. I remember having conversations with my brother and close friends saying, 'Isn't it weird that we switch so much from one place to another?'
"Those switches, for me, were from a traditional Pakistani household, humble background, to a private school that I'd got a government-assisted place to attend, that was predominantly white middle class culture. And then I'd be bunking off school to hang out with my mates who were Pakistani rude boys.
"You would change the way you speak, the words you would use; I was quite literally changing costumes. I might be in a shalwar kameez at home, then wear a blazer and tie at school and then I'd take my Reebok Classics and Firetrap jacket and fake Moschino jeans and then change into them to go and hang out with the mates. This was something I explored in my short film, Daytimer."
Daytimer, written and directed by Ahmed, tells the story of Naseem as he skives off school to go to a daytime rave, caught between his Muslim home life and 1990s street culture.
While Ahmed found this a confusing environment to grow up, in retrospect he can see advantages. He says: "When you get to a certain age you realise it's actually really enriching.
"If you can make peace with living in a kind of no-man's land, then you realise that I might not have a passport to my own place, there may not be one place that I feel like I belong, I may feel like a citizen of nowhere, but you know what? I've kind of got a visa to go anywhere. You can dip in and out of different worlds with a certain kind of facility."
You would change the way you speak, the words you would use; I was quite literally changing costumes

Riz Ahmed on his chameleon childhood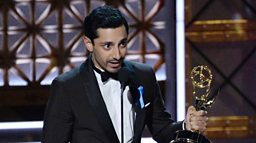 Riz Ahmed was first male actor of Asian descent to win an acting Emmy | Image: Newscom / Alamy Live News
And Ahmed has applied that facility to a wide range of acting roles. His screen career began at the age of 23 in the docu-drama The Road to Guantanamo, which tells the story of three men from the West Midlands who were held for two years without charge by the US government.
Ahmed was himself then illegally detained at Luton airport following a screening of the film at the Berlin Film Festival, an experience which inspired hip hop track Post 9/11 Blues, which he calls an "observational satire about the surreal circus of fear".
It was heard by Brass Eye creator Chris Morris, who went on to cast Ahmed in Four Lions, a dark comedy about Islamic suicide bombers.
But it was the release of The Reluctant Fundamentalist in 2012, in which he played Changez Khan, that catapulted Ahmed to the attention of Hollywood casting agents. Since then major roles have followed in films like Nightcrawler, Rogue One and Jason Bourne as well as an Emmy award-winning performance in HBO series The Night Of.
GUIDANCE: Contains strong language. The BBC is not responsible for the content of embedded YouTube videos.
Success in the US doesn't mean Ahmed has forgotten England, though. He's creating a nine-part drama series for BBC Two called Englistan, a four decades long tumultuous story about three generations of the Latifs, a British Pakistani family.
Spending time more in America has partly inspired Ahmed to reframe British history from an Asian perspective.
He says: "It just occurred to me, you just haven't seen the last 30 or 40 years of British history from the perspective of a brown immigrant family. There's a similar percentage of the American population that are Italian-American as the British population is British-Asian. And if you think how central the Italian-American story has been in popular culture, especially cinema, and you look at the near complete absence of that in British film and TV, it's frustrating."
Englistan was also the name of his 2016 mixtape, which he called "an unflinching portrayal of multiculturalism not as a buzzword, but as lived experience". On the title track he rapped: "This is England / The bridge we living in / A kicharee simmering / Women in hijaabs, syringe popstars / And the promise of a Patel as a 'Man U' star... On this little island / Where we're all surviving / Politeness mixed with violence".
GUIDANCE: Contains strong language. The BBC is not responsible for the content of embedded YouTube videos.
What does 'Englistan' mean to Ahmed?
Ahmed says: "Englistan just means England in Urdu or Hindi. But it also communicates something, which is this idea of re-purposing the flag, stretching the flag so it's big enough to embrace all of us. I think that's part of what I'd like to do with my work, to contribute to this idea of stretching the idea of Britishness and of Asianness.
"There's a Zadie Smith quote I always go back to, 'All I want to do with my work is to take words like black, British or woman and stretch them so they're big enough so I can live in them comfortably.'
"And I think that's what we're all engaged in, taking these labels we've all inherited, trying to stretch these necklaces we've been handed down and wear round our necks."
More from British-Asian artists