Main content
Sam Claflin: Nine things we learned when he spoke to Joe Wicks
Sam Claflin is an actor who's appeared in some of the biggest movies and TV shows in history. He rose to fame with a role in the Pirates of the Caribbean franchise and has gone on to appear in The Hunger Games and Peaky Blinders. On The Joe Wicks Podcast, he talks about Hollywood pressure to stay in shape, going from hero to villain, and why his preferred workout soundtrack is a bit of ukulele music. Here are nine things we learned…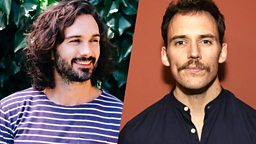 1. He felt like he didn't belong on Pirates of the Caribbean
Sam's big break was in 2011's Pirates of the Caribbean: On Stranger Tides, playing romantic lead Philip. He says at the time he felt totally out of place and lacking confidence. "Throughout the entire experience of being in Hawaii on Pirates, I was like a deer in the headlights," he tells Joe. "I tried my best to enjoy it, but I was so overwhelmed by stress and nerves and fear that I was going to get found out, that I can't act, and people were going to ridicule me." He says it was only on The Hunger Games that he started to believe in himself: "I felt a little more, 'These are my people, and this is where I sort of belong'."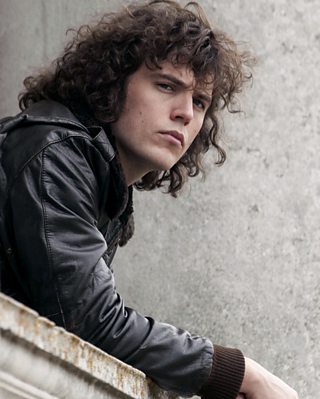 Clafin as Jack Walsh in the 2012 miniseries White Heat
2. He feels pressure to look like a superhero
Anybody who's seen Pirates or Hunger Games will know Sam has spent a lot of time on screen with his shirt off. He says his Hollywood career makes him feel he has to stay in shape. "You can't deny there are pressures within the industry that I work in," he says. "I think it's more pressure I put on myself, comparing myself to Chris Hemsworth and Chris Evans. Not that I'm comparing myself to them, but I'm constantly going, 'Oh, he got that role. Why? Because he's got a ripped six-pack and a personal trainer'… I've definitely done jobs where they've analysed every aspect of my training regime and my diet, to make sure I'm losing weight."
3. He's incredibly competitive
Sam admits that he's extremely competitive about everything. They compare Peloton stats and Sam comes out easily on top. Sam says competitiveness runs in his family. "[My three brothers and I] are all very competitive. My brother Daniel has started running triathlons for Team GB." When Daniel invited Sam to join him on a Park Run, Sam was "so determined to beat him. I hadn't done any training and he'd been doing it for weeks and weeks… On my last lap of this park, I started throwing up in my mouth, but I was like, 'I'm going to finish ahead of him!'" Sam beat him by one place.
4. His preferred workout soundtrack is… ukulele music
Sam says he's never been good at meditation or anything that involves being still, so he considers working out to be his meditation. That means that even when he's doing an intense, high-energy workout he's listening to something gentle. "I know some people go to the gym and they have to listen to hard rock or electro or whatever, but I listen to Hawaiian music or songs played on the ukulele. The most mellow music. Then I just sort of zone out."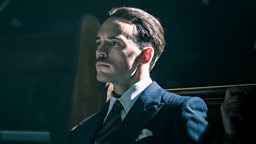 Claflin as early 20th century British politician and fascist Oswald Mosley in series five of Peaky Blinders
5. He's inspired by Tyson Fury
Sam tells Joe that he's got really into boxing lately, going to a low-key "tiny little shoe box of a gym… that's always smelly and always sweaty." He compares it to "Average Joe's Gym in [the film] Dodgeball." He says he had to start learning to box for a job, but "fell in love with the sport." He says he previously thought the point "was to literally go in there and knock the other person out, but the whole point is not to get hit." His interest in boxing has made him a big admirer of Tyson Fury. "Seeing his journey over the last few years has been the most inspiring story, from literally rock bottom to World Champion."
When I was a kid, my mum would ask me what I wanted to be when I was older. My answer was always that I want to be a dad.

Sam Claflin
6. He thinks his work has suffered because he's focused on being a dad
Sam has two children with Laura Haddock (the pair split in 2019). He tells Joe he's wanted to be a dad for as long as he can remember: "When I was a kid, my mum would ask me what I wanted to be when I was older. My answer was always that I want to be a dad." He loves being a dad, though he thinks his career may have slowed down because of it. "I think my work over the last few years has suffered because I've been so focused on the kids," he says. "I'm aware of that and I'm kind of looking forward to the next chapter in my life when they're both at school… so I can start focusing on myself a bit more. But they are my motivation."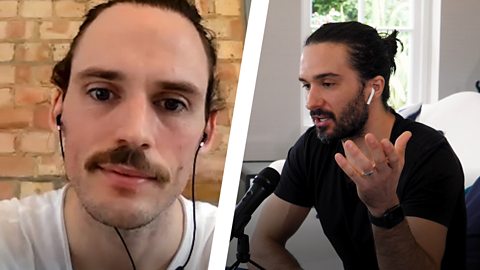 A clip from The Joe Wicks Podcast.
7. His dad was sick for Sam's entire childhood
"[My Dad is] the bravest man I've ever known. The strongest man. I don't know how on earth he's survived so long."

Sam Claflin
When they get on to the subject of family, Sam tells Joe that his dad was extremely ill for all of his childhood. "He had a heart attack when he was in his thirties," he says. "And he was diabetic. He was incredibly sick for pretty much our entire childhood, through no fault of his own. There was a point when I was at drama school, or university, and he was having blood dialysis. We had a room in our house dedicated to being a medical room." He credits his mum for keeping the family together, working to support them as well as taking care of his dad, who Sam calls "the bravest man I've ever known. The strongest man. I don't know how on earth he's survived so long."


8. He starting playing bad guys when he became a dad
Sam's biggest recent role is as Oswald Mosley in Peaky Blinders. A fictionalised version of the real-life politician, Mosley is very much the villain of series five, and will be back for series six. Sam says after years of playing heroes, his switch to villains came at an unusual time. "Strangely, the transition came when the kids were born," he laughs. "I'd always played good guys and heroes, then when I had my kids, I think I needed an outlet for my dark side." He says he's very happy to keep playing baddies. "I've really enjoyed the challenge of making a bad person likeable."
9. He stopped taking blockbuster roles because he felt like he was drowning
It's been a while since Sam has appeared in a big Hollywood movie. He had a small role in 2019's Charlie's Angels, but he's worked much more in independent movies or TV lately. He tells Joe he made a choice to do smaller scale work, as much as he enjoyed being part of big movie. "It was definitely a conscious decision for me," he says. "It was more the scale of those movies. I felt like I was a little fish kind of drowning. I just didn't feel like I could keep up with the people around me that were huge personalities… I give the idea that I've got a big personality, but actually I'm quite shy." He decided to scale things back. "After Hunger Games, I made a conscious decision to side-step and focus on more intimate projects and things that are more character driven."
More from The Joe Wicks Podcast