Main content
BroccoIi Pesto Pasta
Broccoli Pesto Pasta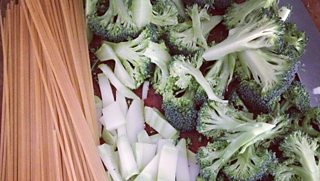 Chef, cookery writer and mum of three Claire Thomson demonstrates her broccoli packed version of an Italian classic. This recipe is from her book 'The Five O'Clock Apron'.
Cooking the broccoli in the same pot as the pasta and for practically the same amount of time results in the broccoli almost entirely breaking up during cooking. I am always surprised by just how much broccoli I can pack into my children when I make this for their tea. Green-flecked and almost creamy, the broccoli coats the pasta and combines beautifully with the garlic, rosemary and olive oil. Twelve minutes, from a standing start with the water already boiling, I can have this supper on the table.
Subscribe to our Cook the Perfect podcast
INGREDIENTS:
Serves 4
- 300g dried pasta (penne or spaghetti would be my preference here)
- salt
- 350g broccoli head (broken down into smallish florets the size of a ping-pong ball)
- 3 tbsp olive oil
- 3 cloves of garlic, chopped finely
- 1 tbsp chopped fresh rosemary leaves
- juice of ½–1 lemon
- chilli flakes (optional)
- a handful of grated Parmesan cheese, plus extra to serve
METHOD:
1. Bring a large pan of water to the boil, adding salt if you wish. Add the pasta and bring back to the boil. Tip in the broccoli florets and cook the whole lot according to the pasta packet instructions. The broccoli will overcook. You want this to happen.
2. When the pasta is cooked, drain the pasta and broccoli into a colander.
3. Using the same pan, return it to a moderate heat and add 2 tablespoons of the olive oil. Add the chopped garlic and sauté for a minute. Don't let it brown. Add the chopped rosemary leaves to the pan. Tip the pasta and broccoli back into the pan. Turn off the heat. Squeeze the juice of half a lemon (or more, as you like) on to the broccoli pasta.
4. Check the seasoning. Add chilli flakes, if using, and the remaining tablespoon of olive oil. Add the Parmesan and give it all a good stir to mix the broken broccoli into the pasta.
5. Serve in bowls, with extra Parmesan on top.