Main content
Sarah Dales
Sarah was fired in week four after the Online Video Channel task as part of a shock triple firing. Lord Sugar was worried that the other candidates didn't have much confidence in her ability so couldn't take her any further. Of her firing, Sarah said: "I think Lord Sugar looked at all of us today and thought that we're not suitable business partners, which is fair enough. I don't think Lord Sugar is a suitable business partner for me."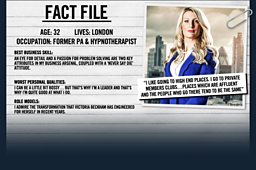 About Sarah
Sarah works as an executive assistant for a top financial firm, having previously brought her passion for problem solving and eye for detail to companies including Goldman Sachs, while also running her own hypnotherapy and match-making businesses. She describes herself as hard-working, positive and tenacious, though she can repeat herself if she feels she is not being listened to. She is a trained hypnotherapist, and says her proudest business achievement to date is setting up her hypnotherapy practice on Harley Street.
Sarah calls herself 'a little bit bossy', but puts this down to her being a 'leader' and thinks it's one of the reasons she's good at what she does - that, and her 'never say die' attitude!