Main content
Draw Neil Gaiman's Story for Radio 4
Invitation to draw Neil Gaiman's The Truth is a Cave in the Black Mountains
This is a celebration of fan art. We think fan art is pretty special. It's the art you draw when you really, really love something. We regularly work with professional artists (Good Omens, National Poetry Day, The Stone Tape) but this time we want to do something different, to share a bit of art in a we-love-the-fan-art-we-see-on-tumblr kind of way. So here we go...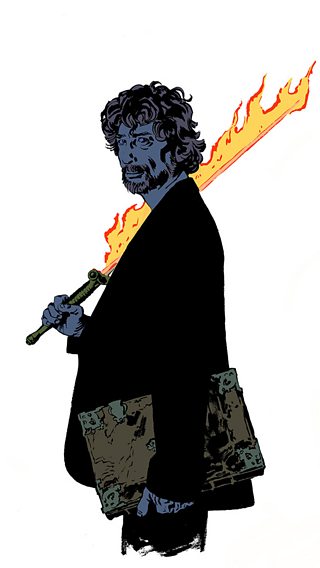 Neil Gaiman drawn by Sean Phillips
The Truth is a Cave in the Black Mountains is the multi-award winning tale of two men who travel across a remote landscape, through the Black Mountains and to the Misty Isle in search of treasure.
Written by Neil Gaiman and inspired by a Hebridean myth - we're thrilled that this captivating story is coming to Radio 4.
To celebrate, we're inviting fans of Neil - or indeed anyone who likes to draw - to have a listen and to create an evocative image that captures the story.
So if you like to draw and fancy a bit of a challenge, we'd love you to see your work. You can do one of the following:
- live sketch as you listen
- draw the characters
- capture the essence of what the story means to you.
We're creating a gallery where we'll present as many of the images as we can and you'll be fully credited.
You can see the fan art gallery here.
It's often said that radio creates the best pictures in listeners' minds – we'd like to see yours on our website!
If you're interested, here's what you need to do:
Create your image
It can be a sketch, a painting or a creation on computer but for rights reasons we can't accept any photo based work or collage. You must have created everything yourself.


Get the right size
Ideally your image should be landscape. The images we use on our website for our programmes are landscape.

The size that best fits our website is 1980 pixels wide by 1080 pixels high.


Let us put your work on our website indefinitely.
How to Submit your image
Once you've drawn it you can either:
- scan it and email it to us at ships@bbc.co.uk
- take a picture of it and email it to us
- or you can share it on Twitter using our Twitter handle @BBCRadio4 (We might miss this so to be safe, it's best to email as well)
All submissions must be received by the 6 December 2015.
Terms and Conditions **MUST READ**
By submitting your work, you grant the BBC the right to use and to authorise the use of the artwork referred to above (which shall include any prints, transparencies or electronic images thereof which may be or have been supplied by you to the BBC for the purposes of reproduction) for all purposes by all means and in all media throughout the world.
You also confirm that you are entitled or authorised to grant to the BBC the rights set out above and that the rights thus granted do not violate the copyright or other related rights of any third parties to the best of your knowledge. To the extent that you are not fully able to make this warranty, you shall use your best endeavours to supply to the BBC at the earliest opportunity such details as are available to you to enable the BBC to obtain the necessary additional permissions.
Put simply what we want to say is: don't use any resources you haven't created yourself; we'll only be using your artwork on our website and on social media. If we show your art on our website we'd like to do so indefinitely but you retain the copyright. If we love your art, we may well share this love and your work on social media. We don't intend to sell it or make any money out of it. It's a fan thing!
So time to get listening and get drawing!
Listen to Bill Paterson reading Neil's award-winning tale.