Main content
What if... Robots Replaced Teachers?
It's a robot takeover!
We at Team micro:bit have been overjoyed to bring you more than a year of micro:bit experiments, activities and entertainment, so we decided what better way to show our appreciation than to get in touch with our robotics buddies and cause a little havoc?
Making robots with the micro:bit has been some of our favourite activities and it can be a lot easier than you think. You - yes you, the one reading this - can make your own robots!
Making robots isn't just for engineers - you can also make works of art. You don't need a Hollywood budget either, just some old toys, some good friends and your micro:bit.

We already have robots who can do all sorts of things, from cleaning our homes to making aircraft. But who is building the robots of the future?

Humans have been fascinated with robots for centuries! Did you know that we've found early robots from as far back as the 1500s? The Science Museum gets to the bottom of why we think robots are so cool.
After you've finished watching our Takeover video above, why not look behind the scenes of how the video was put together, and meet some of the awesome robots that featured in it?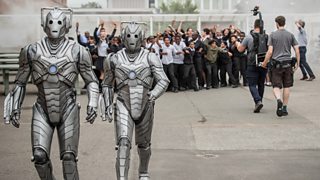 Then after that, we have more reports, exclusive videos and projects to check out below.