Main content
What is it like to take a refugee into your home?
One host reveals how she has benefited from giving shelter to refugees.
Gary Lineker recently revealed that he is opening the doors of his home to a refugee in need of shelter. But what can he expect from the experience?
One person who knows is Jeannie Mackie. On three separate occasions she and her husband have welcomed refugees or asylum seekers to live with them in their flat. As she explained on Mornings, the couple were moved to do so because of hostility directed towards refugees.

"We got involved just wanting to do something a bit welcoming," said Jeannie. "My husband and I were both rather distressed by the unleashing of xenophobia that happened around about 2016, and we wanted to do something positive that showed that the UK was OK for migrants and people in distress."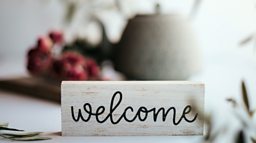 (Image: Carolyn V/Unsplash)
Jeannie contacted the charity Refugees at Home which matches hosts and guests. She, her husband and their home were then carefully assessed for suitability before eventually being matched with a young pregnant woman.

Welcoming a complete stranger into your life, especially one who has been through recent trauma, is an enormous undertaking but Jeannie believes hers was the easier end of the deal.

"The challenging part of it is for the guest," she insisted. "Our guest had refugee status but she had been literally on the streets, sleeping in church halls. Imagine how terrifying it was for her to come to us."
Ground rules
The process does not always run smoothly. While both parties are instructed on ground rules – the dos and don'ts of how to behave around each other – miscommunication can cause problems. Jeannie cites one instance when she asked one guest too personal a question:
"I blundered in to the fact that one of her relatives had come to a very bad end in the place she'd come from and I really upset her. You have to be very careful about not prying. As confidence and trust is built up conversations happen."
For the most part Jeannie's experiences have been positive.

"You widen your life and you widen your circle of friends," she said. "I've learnt a great deal about three different cultures now. It keeps your feet on the ground about the realities of what our world is like, and that's really important.
"I hope the people who've come to stay with us have benefited. We certainly have."


On BBC Sounds
Kaye Adams gets to the heart of the news and offers listeners the opportunity to have their say.
Latest features from BBC Scotland