Main content
BBC Caversham
Sunday, 26th June, 2016
BBC Radio Berkshire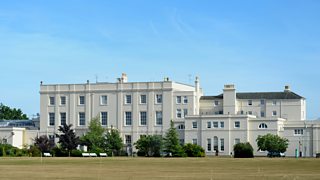 Caversham Park
Peppard Road
Reading
Berkshire RG4 8TZ
This will be an outdoor event and it will take place principally on the gravelled area and lawns on the south side of the House.
Please keep an eye on the weather forecast and wear suitable clothing and footwear for the day.
In the event of wet weather, some of the Roadshow specialists and their respective queues may be moved under the cover of a marquee, but space will be limited and it may still be necessary to queue in the rain if it's a wet day.
There will be AA signage to BBC Caversham.
All visitors are welcome to bring their family treasures. The event will be open from 9.30am and as long as you are in the queue by 4.30pm, you will get to meet our team of specialists for the appraisal of your items.
Light refreshments including tea, cakes, sandwiches etc. can be purchased from the Antiques Roadshow Tea Tent and from the BBC Club building which will be alongside the route of the main queue into the event. Picnics and packed lunches are also welcome in the grounds.
Dogs are not permitted in the grounds or gardens at BBC Caversham.
Smoking is not permitted in the grounds or gardens at BBC Caversham.
There is good access for wheelchair users to the gravelled area overlooking the event and there is a relatively gentle slope which gives access to the lower lawns.
Any firearms brought to the Roadshow must have a Firearms Certificate.
If you have an item with a particularly unusual story attached, or perhaps an interesting collection, why not let us know in advance. Get in touch via our share your story page.
Travel:
By road
There will be a one-way road system in operation on the day of the event. Please enter the BBC Caversham grounds via Buckingham Drive/Peppard Road, turning left into Caversham Park Drive.
When leaving BBC Caversham, please turn left out of Caversham Park Drive and exit along Peppard Road.
Parking
Free on-site parking for Roadshow visitors will be available on the football field which is on the north side of the house. • Parking spaces for Blue Badge Holders will be available.
Please note, there is a short walk to the event from all parking areas.
By Rail
The most convenient railway station to BBC Caversham is Reading (10-minute taxi journey). Alternatively, the Pink 24 bus runs from Station North Interchange to Black Horse (East bound). From there, it is an 8-minute walk to BBC Caversham.
Bus
Bus numbers 23, 24, and 25 will take you to the end of Peppard Road.