Main content
The standout moments from Sunday at Big Weekend 2019
Rounding off an unforgettable Big Weekend 2019, here are some of Sunday's highlights:
The 1975 were perfect festival headliners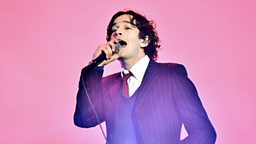 Although the band formed in Manchester, The 1975's frontman Matty Healy clearly holds a special place in his heart for the north-east of England, having grown up in nearby Newcastle. Sure, there may be no love lost between the footy fans in the area, but being in Middlesbrough for Big Weekend this year seems to have meant a lot to the singer, whose dad was even among the crowd. Matty told fans: "We are incredibly, incredibly, incredibly humbled to be headlining a festival, let alone one in the North-East. I love it around here and I love you people."
They may have been humbled to headline, but they looked every bit the part. Taking to the stage dressed in a dapper suit, Matty told the crowd before their track Love Me: "This song is about trying to be a rockstar. It looks easy, lads, but it's pretty hard. We're too self-aware as a generation to buy into the archetypes of rock n roll. You're all too clever." Well, they made it look pretty darn easy to us.
With spellbinding visuals and too many infectious tunes to count, it was a perfect way to close Big Weekend for 2019. For the band themselves, there's plenty still to look ahead to. They're headlining Reading + Leeds later this year, and the next stop? Perhaps a future spot at the top of the Pyramid Stage at Glastonbury? On this breathtaking display, you'd be foolish to count against it.
All hail Little Mix!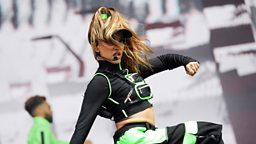 The 1975 were the perfect headliners and who better to open Sunday than pop's finest girl group?
Stepping on stage in matching neon-green outfits, looking like something from a rave superhero movie, Little Mix drew one of the entire weekend's biggest crowds. Perrie Edwards made the most of it by getting everyone in the audience to scream "Shout out to my ex!".
Next up on the Main Stage, Zara Larsson also sang some brilliant break-up bangers of her own. So it was a pretty tough day for exes, all in all.
Dave makes new friends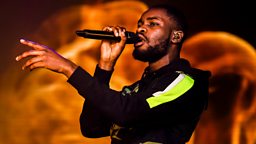 "They say the first festival of the summer is always the best, right?" Dave told the Middlesbrough crowd as he took to the 1 For New Music Stage at 8pm. Of course, we would be inclined to agree, and the South London rapper appeared to be in such party spirits that he wanted to make new friends too.
After a guest appearance from drill frontrunner Headie One, Dave brought a fan called Jack onstage to help him with 2016 track Thiago Silva. Jack's lyrical flow was, let's just say, a little rough and ready, but Dave was clearly impressed with his effort at least. "You killed it out there," Dave told him. "When I'm on stage, I get nervous so I can only imagine what it was like for you."
Clearly revelling in the limelight, Jack told the crowd: "Sorry, a bit of stage fright out there. Dry mouth and that. Hope it was alright," before leading the crowd in chanting their hero's name. Heartwarming stuff.
Warning: Video contains flashing images
Rita Ora packs the fireworks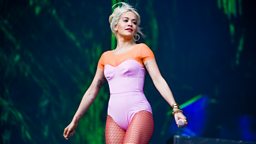 "I just don't like to have a breather, I like to keep things going," says Rita Ora during a rare pause in her mid-afternoon Big Weekend performance.
She packed hit after hit in a sun-drenched set, the likes of Your Song and Anywhere being backed by funk guitar and fireworks.
A masterclass in how to perfect the Sunday afternoon festival vibe.
Sean Paul brings the party tunes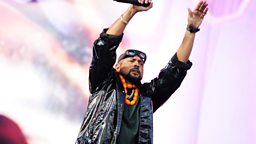 Boasty, Sean Paul's heavyweight team-up with Wiley, Stefflon Don and none other than Idris freakin' Elba, was a collab we never knew we wanted, but believe us, we are very, very glad that it exists.
While Idris couldn't make it to Middlesborough for Big Weekend (although he did send a video message), Jamaican hitmaker Paul was joined by Steff (plus the kid who plays Wiley in the Boasty video) to play their unexpected smash hit.
That wasn't the only highlight though - Sean Paul's set was pretty much the perfect party playlist, with the dancehall superstar managing to fit in 16 songs in total, serving up Rockabye (his chart smash with Clean Bandit and Anne-Marie) next to classic dancefloor fillers like Get Busy and Breathe.
Jax Jones starts a carnival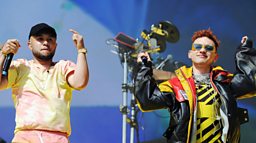 If Sean Paul provided the ultimate party set, then Jax Jones definitely offered up some tough competition. He had wall-to-wall summer hits, tropical outfits, and the perfect mid-afternoon sun for it. Oh, and giant sweet boxes for stage props – obviously.
Years & Years' Olly Alexander and hit magnet Mabel joined the producer on stage, just to get a slice of the party fever. But Jax saved the best 'til last, also bringing out Stefflon Don and an entire carnival's worth of dazzling, multi-coloured costumes for Instruction. What a performance!
Sigrid lets her music do the talking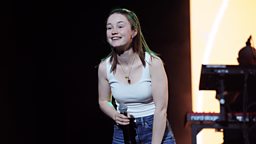 The typically understated Sigrid is never going to offer up fireworks or pyrotechnics during her sets, but she more than makes up for it with high energy and peppy pop tunes. During her Sunday afternoon set on The 1 For New Music Stage, the Norwegian singer largely let her music do the talking, zipping through hits like Sucker Punch, Don't Kill My Vibe and Strangers.
Introducing closing track Don't Feel Like Crying, Sigrid told fans: "It's about having fun. It's about going to a festival like this." She clearly wasn't in the mood for anybody killing her vibe, and ensured that fans remained in sky-high spirits too.