Main content
The Scots who stopped air strikes by a violent Chilean dictator
The Scots who defied Pinochet
In context: Pinochet's Chile
General Augusto Pinochet, head of the Chilean armed forces, led the coup. In the hours following the attack Allende died and Pinochet appointed himself president.

A brutal dictatorship followed, with opponents tortured, murdered or 'disappeared'.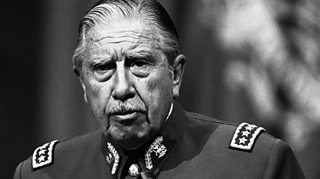 An earlier version of this feature was published in February 2018.
Latest features from BBC Scotland
Experts advise how to get your future in order.

An Inverness garden is blooming lovely.

Worry about the future is on the rise.

Beechgrove's Lizzie Schofield demonstrates her simple method.

Experts share their advice for cutting costs.

Food scientist Dr Stuart Farrimond reveals the answer.

The Scots star on preparing for his new role.

Diana Yates shares her kinder approach to bugs.

Prevent food and financial waste by filling the freezer.

The 'stigma' of debt is preventing people from asking for help.

Psychotherapist Anna Mathus on dealing with outbursts.