Main content
How I came out as non-binary to my parents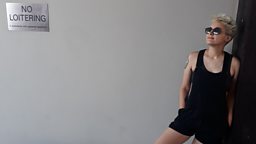 You might have heard the term non-binary. People use it when they don't identify as male or female.
Caitlin Benedict is the host of BBC Sounds podcast, NB. They came out as non-binary last year. At least, they came out to themselves last year. But telling their parents was going to be another thing altogether. For starters, Caitlin lives in London, and their parents live in Sydney, Australia. So what better time to choose for the big chat than a trip home for Christmas? Here, Caitlin shares their experience.
When I went home to Australia for Christmas, I came out as non-binary to my parents. And I recorded it.
It went well. I think the better it goes, the less of a big deal it seems. Now, it seems like I was making a big deal out of nothing, frankly.
But it was a big deal – and it's something that a lot of people are going to have to do in their lives. Based on this one, totally non-universal experience of coming out to my parents, this is my advice to you if it's something you feel like you might have to do too.
1. Don't think of it as Coming Out
Coming Out is a phrase with a lot of weight behind it. Even in big 2019 I think people still associate Coming Out with Ellen Degeneres, with George Michael, with Elton John. It's either gossip and scandal, or it's a teaching moment – and it's all about the reactions people might have to your identity, rather than your identity itself.
When it came to inviting my parents in on my gender identity, I didn't want it to be a pronouncement
It means the fear is always there, like, 'When I do this, everything will change. Something intangible will snap, and nothing afterwards will ever be the same'.
The writer Dennis Norris II says they prefer "inviting in" to "coming out". I love that, and will be stealing it from now on.
When it came to inviting my parents in on my gender identity, I didn't want it to be a pronouncement. I've seen people come out via YouTube video, documentary theatre performance, and university musical theatre society general meeting. But I don't think you can do that with the people you're closest to. They deserve a real conversation.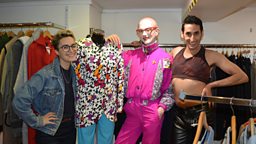 Caitlin with editor of FRUITCAKE magazine Jamie Windust (centre) and their podcast co-host Amrou Al-Kadhi (right) in London
2. Ease them in
One of the ways I experimented with my gender, both the way I present myself to the world and the words I use around it, was via social media. My mum doesn't bother with the various platforms available, but oh boy does my dad love it. I let him follow me on Instagram and I very rarely regret it.
I was laying the groundwork even before I had really come out to myself
So dad has been able to see the changes in me over the last couple of years. He sees the way I look, the way I talk about myself and the kind of stories and politics I'm interested in. I was laying the groundwork even before I had really come out to myself.
Then when I had come out to myself, and to my local loved ones here in the UK, I had to think about how I was going to talk to mum and dad about it. I thought about how much I would have to explain, how many questions I still had unanswered about myself, and how dumb I was going to sound.
As luck would have it, almost at that very moment I got a podcast about my gender identity called NB commissioned. So I made all my insecurities and all my questions into a series. Then, just before I got on the plane to come home, I emailed the episodes to my dad.
3. Remember how well they know you
When I got off the plane it was 28 degrees centigrade, hazy, blue and dry in the way that only Sydney really can be. Mum and Dad and my in-laws met us at arrivals and squeezed us tight. When we walked out of the airport doors, the air smelled like a combination of gum leaves and melting bitumen. As it always had done. Dad made coffee. It tasted the same. The caffeine made me jittery like it always did. Then we went to the beach. As we always did.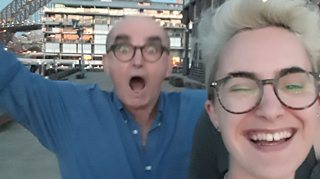 Caitlin and their dad
Washing the long-haul flight off my body in the cold salt of the ocean with my family bobbing around me like a pod of seals reassured me. I was the same person I'd always been.
And we talked. Over dinner, over more coffee, in the car, on the beach, in the ocean, and of course into microphones.
Dad told me what I was telling them wasn't incongruous with the person they thought I was. He said to me, "there's always been a restless search within you". And I liked that a lot.
4. Ask for support from your friends
I skyped my NB co-presenter Amrou while sitting on the Catholic church pew my parents have in the corner of their living room for some reason. "How did it go?!" It was so wonderful to hear their voice, and not just because it had been days since I'd heard a non-Australian accent.
I got messages from all my friends back home. I woke up to 15 variations on "How did it go?" and tried to articulate how perfectly uneventful it had been.
I sent files of the recordings I did with my dad back to my producer Arlie. I also sent him pictures of dogs at the dog beach. Thank god for the internet. I asked my friends to be there with me, and I never felt alone.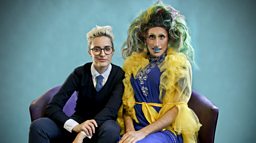 Caitlin with their friend and NB co-host Amrou Al-Kadhi
5. Get on with the rest of your life
When I got back on the plane to the UK I was in an almighty sulk. I cried before we'd even taken off. Every time I'd been back home before this time, I'd felt ready to leave the heat and the light and the home for my impossibly glamorous life in a pokey North London flat. But this time I could have stayed forever.
The wobbly, adolescent worries about being myself cracked apart and I felt like myself
The fear I had going on, about the invisible snap, of everything changing, kind of came true. But it was in the most beautiful way imaginable: the fear itself snapped. The wobbly, adolescent worries about being myself cracked apart and I felt like myself. Like I was 100% myself in all the old places - my childhood haunts, my parents' house, even in my great aunt's chintzy sitting room – and I wasn't running away from anything. I could have stayed and been me.
That being said, I had a lot of editing to do, and London is quite cool actually, so I'm glad I came back. But I'm better at texting my dad, better at making and keeping Skype appointments, better at trying to explain memes to my mum over email. Everything has changed.
You can listen to Caitlin's non-binary journey, including their conversation with their dad, on NB.