Main content
50 hilarious cuttings from The News Quiz
Lighting up every episode of The News Quiz are funny stories, misprints and typos sent in by listeners. They come filled with double entendres, mind-bending images and plain old smut and here are 50 of the very best.
Parents and guardians are being invited to a new Gloucestershire support group to help those who have children confronting gender issues. The group arranges outings once a month.
From the Gloucestershire Echo sent in by Mick Brunt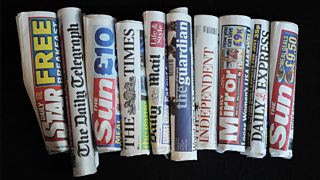 This toilet is a display model. Please ask a member of staff if you would like to watch a demonstration.
Are you a man aged over 40? Windsor Lions Club is offering free prostate cancer checks with the help of a local estate agent.
From The Royal Borough Observer sent in by Andy Sonden
Cameron Diaz encourages women to keep their pubic hair in her new book.
From eonline.com sent in by Graeme Forbes
Our wardens have removed a naked statue of Donald Trump from Union Square. The NYCP stands firmly against any unpermitted erections, no matter how small.
A statement from the New York City Parks department sent in by Emma Richards, Michelle Renno, Richard Wall and others
Stench from Shropshire bio-gas site blamed on new employee.
From The Shropshire Star sent in by Gordon Cruickshank
Police seek hardened criminal after penis pump is stolen from Victoria sex shop.
From The Age Newspaper sent in by Felix Parker
Van Gogh was bleeding copiously after slashing his ear with a razor, so he wrapped the piece of ear in paper and walked to his favourite brothel where he gave it to a young woman he knew.
From The Guardian sent in by Marc Hopcraft
Gold or Black Beats Headphones – were £169.99, now £179.99!
An online January offer from Hot UK Deals sent in by Keith Giles
A local man was fined on Monday for repeated trespassing and criminal damage. Margaret River Magistrates Court heard how the man entered a local school building by forcing open a window with another man.
From The Augusta Margaret River Times sent in by Allen Hull
Police are appealing for information after a naked man was seen near a busy Hampshire Road. The man has been described as white, six foot tall with thick wavy hair and prominent cheeks.
From the Southern Daily Echo sent in by Matthew Feldwick, Laura Maunder and others
To those of you texting in regarding the news item about the Vera Lynn tribute flypast, this event has been hampered by poor weather, not by Paul Weller.
From BBC 6 Music heard by Paul Endean
A local drug dealer was arrested on Thursday night. Strip searching the man, police found a large amount of crack down the back of his trousers.
From The Northampton Chronicle sent in by Julia Allen
It's well known that erectile dysfunction is more common among older soldiers – which would explain a hefty bill for retired service members.
From the BBC News Website sent in by Howard Grovesnor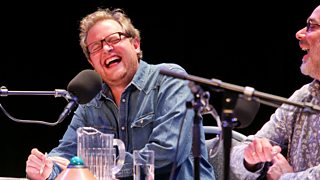 Six foot boa constrictor. Free to a good home. Very friendly, good eater, likes children.
The next Matinee Film screening in support of Halesworth Dementia Trust will be La La Land.
From a sign spotted in Halesworth Sussex by John Underwood
A New Study finds that Uranus opens every few hours to release solar wind.
From the International Business Times sent in by Joe Isham
Join us on the 2nd and 4th Sundays of the month for breakfast including Hot Sausages aimed at children under 10 years old.
From the St Peter's and St Andrew's parish magazine sent in by Ben Harris
A football supporter whose team have not won at home for almost a year was arrested after pulling his pants down during a match. Fellow Sunderland fans said the teenager defecated on his seat during a 3-1 defeat to Reading at the Stadium of light. A club spokesman said the matter was in the hands of the Northumbria Police.
From the Metro sent in by Chris Cavey and Eileen Scholes
23-year-old jockey Willy Twiston-Davies retires to focus on breeding.
From the BBC Sport website sent in by Chris Giles
A couple from South Wales have appeared at Hammersmith Magistrates Court after being captured on CCTV having sex in public at the Westfield Shopping Centre. The magistrate said that the couple would now be temporarily excluded from coming within the M25.
From The Metro and sent in by too many to mention
Surgeons are set to carry out the first penis transplant in the United States. The 12-hour procedure will involve stitching key nerves and blood vessels in an operation that doctors hope will improve patient's quality of life and help them re-enter society.
From the BBC News Website sent in by James Ward
Tomorrow's Health Walk will start at 10:00am. Meet outside the Chip Shop.
From the What's On section of the Hereford Times sent in by Stephanie Canham
BBC2 at 9:00pm "Tribes, Predators and Me" a programme where Gordon Buchanan learns to hunt crocodiles with his bare hands. Last in the series.
From a TV listing in the Telegraph sent in by Bruce MacWillson
In our latest newsletter we reported that President Obama ordered the explosion of Russian diplomats. This was an auto-correct of "expulsion" and we apologise.
A correction from a Boston publication sent in by Bill Shribman
Unfortunately, Slimming World has had to cancel its meetings here on Saturday mornings as the group is too large for the room.
A poster seen in a leisure centre sent in by Ross Anderson
A man stripped off and took a naked dip in the Bridgewater Canal in front of shocked passers-by. The man was described as white, about six foot tall and soaking wet.
From the Manchester Evening News sent in by Gus McKenzie
The Progression of Wind Energy Trade Fair continues today as planned after it was necessary to evacuate the lightweight exhibition halls yesterday due to a cyclone.
From the German Tabloid Der Bild sent in by Thomas Warden
The South African National Defense Force has launched an investigation into an accident at Wallmansthal military base in which during a fire prevention exercise 83 military vehicles were completely destroyed by fire.
From South Africa's Cape Times Newspaper sent in by Robin Mousley
"I remember Elton John put on a party for us during the 1986/87 Ashes tour. We saw CDs for the first time because he'd brought his own collection with him. I don't think he actually played one of his own songs all night. It was fantastic."
From the Daily Telegraph, a quote from former England cricketer Mike Gatting sent in by Denis Fuller
This toilet is a display model. Please ask a member of staff if you would like to watch a demonstration.
From a sign spotted by Charlie Kind of Oxford at the London Boat Show.
Would-be apprentices at Sizewell B are invited to come to an information event on Saturday. Roger Barge, apprentice training co-ordinator, said: "Apprentices at the nuclear power station enjoy great training and a glowing future."
From the East Anglian Daily Times sent in by Clive Merrison
Nestlé has lost its bid to register the shape of its four-finger Kit Kat as a trademark. The judge began deliberating on the dispute in 2014 - but had a break to allow judges in Europe to consider legal issues.
From the Daily Mail sent in by David Wood
Bristolians will once again be stripping off and getting on their bikes as part of the World Naked Bike Ride. This year's event will be taking place on Saturday, June 4th and will set off at 11:00am from The Full Moon pub.
From the Bristol Observer sent in by Julien Nioche and JC Ward
"There really are no holes barred when you're working with someone you love."
From Radio 4's Saturday Live Facebook Page sent in by Helen Swanston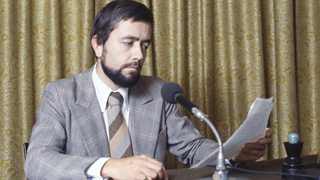 Mud Walk! Find out what lives in the mud of Exmouth estuary. Opposite the toilets at Imperial Road Rec.
From Exeter Living Magazine sent in by Orlando Murrin
A 12-week-old kitten was rescued from inside a living room sofa after fire officers chopped it up with hacksaws and hydraulic cutters.
From the Northern Echo sent in by Ian Forsyth
Hello. I'm looking for a free or cheap double mattress. I'm heavily pregnant so I would be extremely grateful if you are also able to deliver.
From an advert spotted on Facebook by Alex Henderson
Ladies and Gentlemen! Drop your trousers here for best results!
A sign spotted outside a London launderette sent in by Caitlin Stevenson
The first meeting of the Erotic Writing group will take place on April 18th. Please enter via the back gate.
From an email about upcoming events at a Hertfordshire social group sent in by David Brown
Mantle Books have announced that senior editor Sophie Orme will not be returning from maternity leave after an internal restructure.
From Bookseller Weekly sent in by Toby Marshall
Due to unforeseen circumstances, clairvoyant Trisha will not be appearing in the Kevin Bird Suite tomorrow night.
A Tweet from Mansfield Town Football Club sent in by Richard Harvey and Emerson Povey
Latex-free condoms: 5 stars. Reasonable price, came quick.
A review from the Amazon website sent in by Andrew Horler
A monk who posted nude clips on social media has been defrocked.
From Cambodia's Phnom Penh Post sent in by Bob Couttie
A 72-year-old pensioner who was accused of flashing has claimed that any exposure was unintentional as he was merely crouching down to collect nuts off the pavement.
From the North Wales Daily Post sent in by many
Your legs will be lovely and warm while you tackle the cold outdoors in these men's thermal trousers. Multiple pockets are a handy feature to keep you essentials close to hand.
An advert for thermal trousers sent in by Maurice Neville
Hundreds of people are seeking help with anger management every day as commuters implode with fury amid the stresses of getting from A to B. The British Association of Anger Management said its website was getting up to 500 hits a day.
From the Evening Standard sent in by Lawrence McNamara
Six foot boa constrictor. Free to a good home. Very friendly, good eater, likes children.
From an advert in the pets section of the Sheerness Times and Guardian sent in by Karl Heller and Lizzie-Jane
Our accounts have been independently examined this year by Maureen Lamburn FCA, following John Thornton's retirement, for which we are most grateful.
From Harpenden RSPB sent in by John Allen
A group of primary school children toured the Houses of Parliament this week thanks to their guide, Watford MP Richard Harrington. The children had an opportunity to grill Mr Hamilton before lunch.
From The Watford Observer sent in by Ian Pankhurst
Ever since the discovery of the Higgs Boson particle, CERN in Switzerland has been dedicated to furthering the study of physics. To this end, an experiment was set-up involving a Large Hardon Collider.
From the Universe Today website sent in by Liz Cole
Please do not bring plastic bin bags to wear. We've had runners tripping over them, and they just end up in landfill.
A warning to competitors in the 2017 Bath Half Marathon