Main content
Rolled Cinnamon Scone Bread with Plums
I love this bread, with its simplicity bread making for everyone in a few minutes. Can be made with apples, plums or seasonal fruit.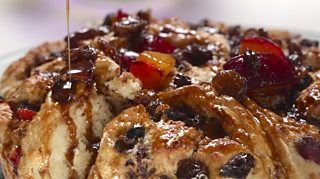 Serves 6-7
Ingredients
450g/1lb plain flour and 2 tsp baking powder or ready made scone mix.
250ml/1/2 pt milk – full cream or low fat milk or buttermilk
Filling
2 chopped apples or plums
1 tsp. Cinnamon powder
25 gms (1 oz) brown sugar
50 gms. Sultanas
To finish dust with icing sugar.
Method
Grease well a round 18-20cm/7-8 inch tin and dust lightly with caster sugar.
Sieve the flour into a large bowl and add the baking powder if necessary, add milk and mix to a firm dough, pour half the mixture into the tin.
Filling
Mix together either 2 chopped plums or apples, 1 tsp. Cinnamon powder, 25gms. Brown sugar, 50 gms. sultanas, and spread half over the dough in the tin, pour the remainer of the scone dough on top and finally sprinkle with the remainder of the fruit mixture.
Bake at 200 degrees F, Gas mark 6 for 20 – 25 mins. Serve hot buttered if you like and dust with icing sugar.