Main content
Who's Who
Bramwell Tovey - Principal Conductor
Grammy and Juno award-winning conductor and composer Bramwell Tovey has taken up his position as the new Principal Conductor of the BBC Concert Orchestra.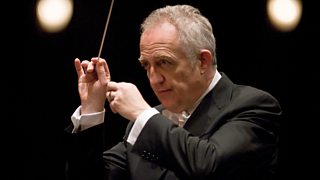 Bramwell Tovey was appointed Music Director of the Vancouver Symphony Orchestra in 2000. His exceptional tenure concludes in the summer of 2018. Under his leadership the VSO has toured to China, Korea, across Canada and the United States. His VSO innovations have included the establishment of the VSO School of Music of which he is Artistic Advisor, the VSO's annual festival of contemporary music and the VSO Orchestral Institute at Whistler, a comprehensive summer orchestral training program for young musicians held in the scenic mountain resort of Whistler in British Columbia. In 2018/2019, the VSO's centenary season, he assumes the role of Music Director Emeritus.
During 2017/2018 his guest appearances include the New York Philharmonic, the Boston Symphony, the Philadelphia Orchestra, the Los Angeles Philharmonic and the Sydney, Melbourne, St Louis and Toronto Symphonies. He will also debut with the Houston and Indianapolis orchestras. He will lead the New York Philharmonic's Live From Lincoln Center PBS TV Special in the music of Leonard Bernstein on New Year's Eve 2017.
In 2003 Bramwell Tovey won the Juno Award for Best Classical Composition for his choral and brass work Requiem for a Charred Skull. His song cycle, Ancestral Voices, which addresses the issue of Reconciliation, was written for acclaimed Kwagiulth mezzo-soprano Marion Newman and premiered in June 2017. It is being featured on the VSO's provincial and national tours in 2017/2018. His trumpet concerto, Songs of the Paradise Saloon, was commissioned by the Toronto Symphony for principal trumpet, Andrew McCandless and performed in 2014 by Alison Balsom with the LA Philharmonic, the Philadelphia and the London Philharmonic Orchestras. A recording of his opera, The Inventor, commissioned by Calgary Opera, features the original cast, members of UBC Opera and the VSO is scheduled for release.
Mr. Tovey was the recipient of the Oskar Morawetz 2015 Prize for Excellence in Music Performance. He was previously Music Director of Orchestre Philharmonique du Luxembourg where he led the world premiere of Penderecki's Eighth Symphony on the opening of the principality's new concert hall, the Philharmonie. He won the Prix d'or of the Academie Lyrique Française for his recording of Jean Cras' 1922 opera Polyphème with OPL and toured with the orchestra to China, Korea, the United States and throughout Europe.
In 2013 he was appointed an honorary Officer of the Order of Canada for services to music. Since 2006 he has been Artistic Director of the National Youth Brass Band of Great Britain. In 2017 he joined the faculty of Boston University where he teaches conducting and oversees BU's extensive orchestra programme.
Full list of players and management
First Violin

Leader: Nathaniel Anderson-Frank

Associate Leader: Charles Mutter

Section Principal: Rebecca Turner

Peter Bussereau

Chereene Price

Lucy Hartley

Cormac Browne

Juan Gonzalez

Rustom Pomeroy

Vacancy
Second Violin

Michael Gray

Matthew Elston

Marcus Broome

David Beaman

Daniel Mullin

Sarah Freestone

Anna Ritchie

Vacancy
Violas

Timothy Welch

Appointment in progress

Nigel Goodwin

Helen Knief

Mike Briggs

Judit Kelemen
Cellos

Benjamin Hughes

Appointment in progress

Matthew Lee

Josephine Abbott

Ben Rogerson

Vacancy
Double Basses

Dominic Worsley

Andrew Wood

Stacey-Ann Miller

Vacancy
Flutes

Ileana Ruhemann

Sophie Johnson
Oboes

Gareth Hulse

Victoria Walpole
Clarinets

Appointment in progress

Derek Hannigan
Bassoons

John McDougall

Jane Gaskell
Horns

Appointment in progress

Tom Rumsby

Mark Johnson

David Wythe
Trumpets

Catherine Moore

David McCallum

John Blackshaw
Trombones

Appointment in progress

Mike Lloyd

David Stewart
Timpani
Percussion

Alasdair Malloy

Stephen Whibley
Harp
Management Team

Director: Andrew Connolly

Team Assistant: Molly Gallagher

Producer: Neil Varley

Concerts and Planning Manager: Carolyn Hendry

Concerts and Planning Co-ordinator: Ruth Potter

Concerts and Broadcast Co-ordinator: Ayesha Labrom

Orchestra Manager: Alex Walden

Orchestra Personnel Manager: Claire Tapping

Assistant Orchestra Personnel Manager: Collette Astley-Jones

Librarian: Tim Cotter

Orchestral Production Manager: Rob Jordan

Stage and Transport Resource Manager: Chris Ouzman

Stage Manager: Leigh Coffin
London Orchestras & Choirs Marketing & Learning

Head of Marketing, Publications and Learning: Kate Finch

Communications Manager: Camilla Dervan

Assistant Publicist: Anna Hughes

Marketing Manager: Sarah Hirons

Marketing Executives: Jenny Barrett, Charlotte Parr

Marketing Co-ordinator: Eva Soans

Senior Learning Manager: Helen White

Learning Managers: Lauren Creed, Melanie Fryer

Learning Co-ordinators: Rebecca Burns, Naomi Selwyn, Catherine Humphrey