Main content
How we make art in some of Scotland's most inaccessible places
Artists Robbie Synge and Julie Cleves want to spend time working together in beautiful outdoor spaces. Their award-winning film Forest Floor, shot in the Cairngorms National Park, sees them demonstrating ingenious yet lo-fi methods for working in places often out of reach to wheelchairs.
Robbie and Julie is the working title of the partnership between artists Robbie Synge and Julie Cleeves. The pair have been collaborating for around ten years since meeting at a dance audition.
Although they initially worked inside dance studios, they had an urge to push their boundaries and take their work into the natural world. This comes with significant challenges though, as they told Radio Scotland's Out of Doors programme.
When performing in Edinburgh in 2015 they came up with a clever, but inexpensive, solution which is demonstrated in Forest Floor.
Robbie said: "We set off down to the timber yard and bought the longest piece of timber we could find and chopped it up with rusty saw. We were basically creating, very economically, a load of identical little wooden blocks, about the size of a Yellow Pages. About fifty of them allows us to kind of move side to side and transfer Julie back to her chair."
Julie explained: "Otherwise it would be a medical hoist, which is metal which is used in hospitals, which is very heavy and very big and very expensive to hire. We felt restricted by this because wanted to expand and explore. Also, it wasn't very nice way to use. It's very clinical and this is a creative process that we are doing and developing and, for me, it was totally against what I was going for."
"It's managed to capture our friendship"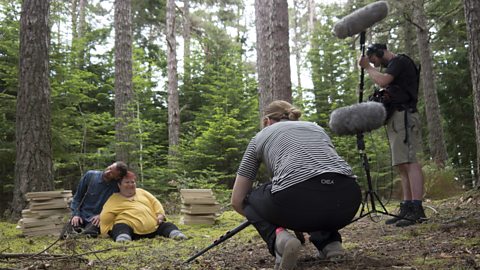 Bruce Munro spoke to the artists behind the film - Robbie Synge and Julie Cleves.
Robbie says he has felt overwhelmed by positive feedback the film has received on social media.
He said: "I am absolutely delighted with the response to Forest Floor so far... Endless shares and great feedback. I find it quite hard to get my head around!"
Looking at some of the comments on BBC Arts Facebook page, it's easy to see why Robbie feels this way:
The absolute beauty of connection ❤ connection to each other and connection to nature ❤
I love how much communication there is between you two. The dancing was beautiful, connected and flowing.
This is one of the most beautiful things I've seen. Absolutely mesmerising. You two. This is just beautiful
THIS. IS. SPECTACULAR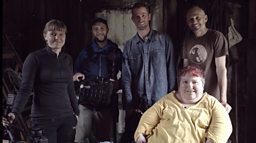 Forest Floor cast and crew: Emma Dove, Jonathon McLoone, Robbie Synge, Julie Cleves, Scott Green
More amazing short films from BBC Introducing Arts
Eejit, poke and Veda – just some of the words translated in Katie McQuillan's film A-Z of NI

The tired, drunk, disgruntled, joyous and riotous strangers found within a late night Scottish train

Distant memories of the past are recalled as fleeting fragments by a man in his eighties