Main content
The Outrun by Amy Liptrot
About the Book
When Amy Liptrot returns to Orkney after more than a decade away, she is drawn back to the Outrun on the sheep farm where she grew up. Approaching the land that was once home, memories of her childhood merge with the recent events that have set her on her journey.
Amy was shaped by the cycle of the seasons, birth and death on the farm, and her father's mental illness, which were as much a part of her childhood as the wild, carefree existence on Orkney. But as she grew up, she longed to leave this remote life. She moved to London and found herself in a hedonistic cycle. Unable to control her drinking, alcohol gradually took over. Now thirty, she finds herself washed up back home on Orkney, standing unstable at the cliff edge, trying to come to terms with what happened to her in London.
This is a beautiful, honest and inspiring book about living on the edge, about the pull between island and city, and about the ability of the sea, the land, the wind and the moon to restore life and renew hope.
About the Author
Amy Liptrot has published her work with various magazines, journals and blogs and has written a regular column for Caught By The River - out of which The Outrun emerged.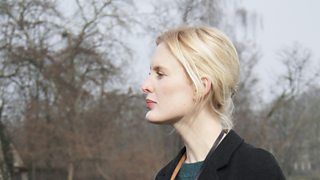 As well as writing for local newspaper Orkney Today, and editing The Edinburgh Student newspaper, Amy has worked as an artist's model, a trampolinist and in a shellfish factory. This is her first book.