Main content
5 songs you should hear this week – w/e 30th November
Every day we play you a track that has just grabbed our attention. As soon as we hear it, we send it into the digital ether for you all to enjoy. Sometimes it's an exclusive, sometimes it's a favourite artist and, at other times, it'll be someone brand new.
Please note the links below will take you to third party content, which may contain adverts.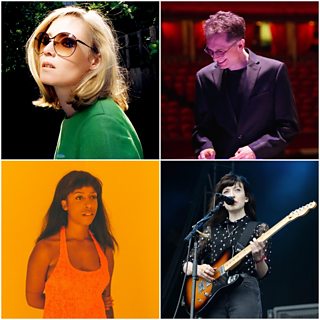 Ex:Re – Romance
Brand new track released this week! Ex:Re is the solo project of Elena Tonra of the band Daughter. Her eponymously titled album will be released this Friday 30th November, with a physical released in February next year. Elena says: "This album was made out of devastation, and I'm so happy with it."
Charlotte Adigery - Paténipat
We're big fans of Charlotte Adigery, and this track is taken from a new EP Zandoli – released on 8th February 2019 via the Soulwax brother's DEEWEE label, who she's teamed up with again on this. Of the track Charlotte says: "If in life you feel tired and hopeless, throw out all the stuff that don't matter in the end…dance until you're dizzy. Be your naked and uncompromising self"
Róisín Murphy - The Rumble
This, alongside B-side World's Crazy, is the final pair of tracks in the 12" singles series which have been released across 2018. This track was created in collaboration with Baltimore musician / producer / DJ Maurice Fulton and released through The Vinyl Factory. She says: "The Rumble was written with Maurice and Mim Suleiman. Mim is amazing with infectious energy. I needed help as it's a mammoth track, like two songs in one the second half is a vamp in which Maurice instructed me to preach!"
Gavin Greenaway - The Sun Rose
Taken from his second album Woven, which comes out in February 2019. Gavin is a British Emmy award-winning composer, conducting over 100 feature film and TV soundtracks. Gavin says: "Woven is my love letter to the vinyl LP, a concept album created only with sounds from one instrument - my upright piano."
Sampha The Great - Energy
We were big fans of her album Birds and The BEE9, released earlier this year. The Zambian-born, Botswana raised artist, who currently resides in Melbourne features spoken word from Nadeem Din-Gabisi of London's Steamdown collective. The single comes paired with a new visual which director Modu Sesay describes as "an ode to feminine energy, which is essential to all of our existence and the source of life."
Discover more new music with 6 Music Recommends