Main content
'A life wasted': Who was the real Ebenezer Scrooge?
11 December 2021
Simon Callow's acclaimed one-man adaptation of A Christmas Carol will be BBC Two on 11 December. This classic holiday season morality tale played a huge role in popularising many of the Victorian ideas of Christmas. But where did Charles Dickens get the idea for curmudgeonly old miser Ebenezer Scrooge?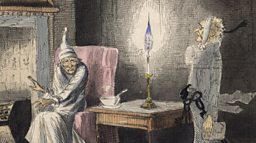 John Leech's illustration from A Christmas Carol, published by Chapman & Hall in 1843
Charles Dickens was not only one of the greatest novelists of the 19th Century, but also an inspired actor and director, who performed A Christmas Carol around the country as a one-man show. Known for his innate ability to summon each of the 38 characters, Dickens was lauded for his ability to create a riveting world for his audience to inhabit.
Dickens couldn't have been more wrong about the real Scroggie
But how did the author create Ebenezer Scrooge – "a squeezing, wrenching, grasping, scraping, clutching, covetous, old sinner," as Dickens describes him?
It's been suggested that during a walk in Edinburgh's Canongate kirkyard in June 1841, Dickens came across the gravestone of one Ebenezer Lennox Scroggie. The gravestone gave 'meal man' as Scroggie's profession, referring to his trade as a merchant.
Somehow Dickens misread this as 'mean man' and later wrote in his notebook: "To be remembered through eternity only for being mean seemed the greatest testament to a life wasted."
He couldn't have been more wrong about the real Scroggie.
Research by political economist Peter Clark has shown that he had been a corn trader and vintner whose family had supplied Captain Cook's ship Endeavour as it charted the Pacific.
Scroggie imported wine in bulk and exported whisky in return, building a reputation and gaining royal patronage, leading to two years acting as Edinburgh's Lord Provost. He was a jovial man and a scallywag who once interrupted the General Assembly of the Church of Scotland by goosing the Countess of Mansfield.
He may have taken advantage of one of his servants too, having a child out of wedlock - not the behaviour you would expect from Dickens' Scrooge; well, maybe after the visitations.
Unfortunately, the grave marker was lost during restoration of the Kirk in 1932. But there are plans to recognise Scroggie and his life by erecting a memorial and drawing attention to his literary influence.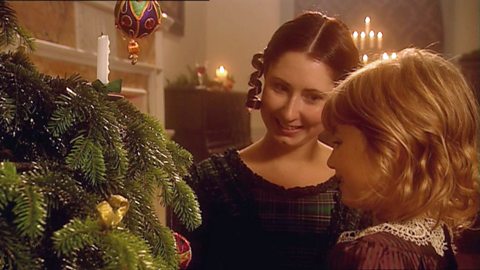 Griff Rhys Jones and historian Daru Rooke discuss the history of Christmas decorations.
The other inspiration for Scrooge is likely to have been John Elwes (1714-1789), the MP for Berkshire who was born in to a prestigious and wealthy family of reputed skinflints.
Unusually for a miser, Elwes could be affable, considerate and generous with his cash
Dickens would have known of Elwes through a biography written by Edward Topham, Life of the Late John Elwes (1790), which became a bestseller, going through 12 editions and establishing 'Elwes the miser' as the archetypal penny-pincher:
"All earthly comforts he voluntarily denied himself: he would walk home in the rain, in London, sooner than pay a shilling for a coach: he would sit in wet clothes sooner than have a fire to dry them: he would eat his provisions in the last stage of putrefaction sooner than have afresh joint from the butcher's…"
And this was a man who was bequeathed an estate by his uncle which exceeded £18million in today's money.
Unusually for a miser, Elwes could be affable, considerate and generous with his cash, often lending to those in need (without the usury terms that Scrooge would recognise) - and losing it. "His avarice," says Topham, "consisted not in hard-heartedness, but in self-denial." He left the equivalent of over £28million to his children after his death in 1789.
Dickens is certainly no stranger to the miser as a type. It could be said he expanded on the character of Gabriel Grub from The Pickwick Papers (1837).
But while the name Scrooge is now a byword for a selfish, miserly person, the book ends on a note of optimism: "God bless us, every one!" Surely Scroggie and Elwes would applaud that sentiment too.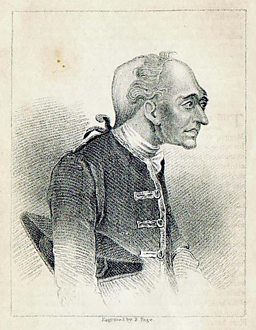 John Elwes MP was famously miserly
A version of this article was originally published in 2015.
Christmas movie magic from BBC Arts