Main content
It's all sewn up: Top needlework tips from Get Creative
14 April 2021
If the return of The Great British Sewing Bee has inspired you to get creative with needle and thread, here are some handy resources that will get you creating craft projects that would impress host Joe Lycett and judges Esme Young and Patrick Grant!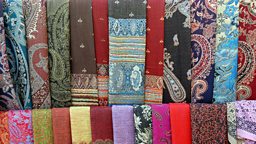 The website for The Crafts Council is a good place to get ideas and information, as is Voluntary Arts which works to promote and increase participation in cultural activities across the UK and Republic of Ireland.
| Why get into craft? | Can it be inexpensive? | Is there a family option? |
| --- | --- | --- |
| It's fun, it's useful and a great way of recycling old materials. You could rediscover a hobby from childhood or try out something totally new. As an art form it's back in fashion and there are plenty of magazines, websites, shops and craft fairs for inspiration and materials | Yes. Materials needn't be expensive. Quilting is a perfect way of recycling old fabrics while dressmaking might prompt you to revamp rather than replace! | Definitely. Some group crafting is a perfect way to keep a family in one place, without the distractions of phones and screens. And there's no reason why you all have to try the same activity. Set aside some time and see what everyone creates |
What would you like to try?
Needlework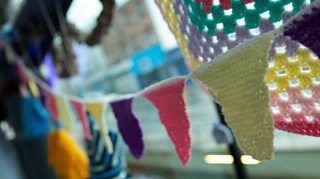 There's something very satisfying about walking down the street in an outfit nobody else is wearing
This is a world that encompasses numerous styles including cross-stitch, tapestry, embroidery and needlepoint. Cross-stitch, which is practiced all over the world, is said to be the oldest form of needlework, and features stitches in the shape of an x or + on fabric. In the world of cross-stitch there is a current trend for more postmodern or tongue-in-cheek designs featuring retro images or contemporary sayings. Needlepoint is generally done on stiff canvas with openings at regular intervals. Tapestry is traditionally woven on a vertical loom, using two sets of threads, running vertically and horizontally.
Then there is embroidery, in which designs are stitched either on top of or through fabric, and can sometimes involve decoration such as beads or sequins as well as the embroidery thread. Online you'll find kits to try needlework or in any department store. And if you are after inspiration, look out the work of American artist Kaffe Fassett, the first living textile artist to have a show at the V&A, who is known for his colourful designs in needlepoint, patchwork, knitting, painting and ceramics.
Dressmaking
There's something very satisfying about walking down the street in an outfit nobody else is wearing. You could raid secondhand shops to stand out from the crowd, but making your own clothes feels like a real achievement. Or combine the two, by buying vintage items and then customizing or altering them. If you don't have a sewing machine already, look for bargains in the sales or online. While hand sewing is creative, you'll achieve better and faster results at dressmaking with a machine. As The Great British Sewing Bee has shown, making your own clothes is a hobby that appeals to men and women, young and old. On the show's website you'll find a series of video tutorials from judge May Martin, with tips on topics like altering a charity shop dress, making a pair of children's shorts and how to turn a man's shirt into a sundress.
Candle making
While the manufacturing process is relatively straightforward, you can let your creativity run riot, in terms of colours, shapes and scents. Should you not be happy with your initial endeavours, melt the candle and try again!
Although candle making works well as a pastime for all the family, children need supervision, and you will have to give it your undivided attention. When you work with hot wax, don't try multitasking because it will not only be dangerous but the wax will also turn cold very fast.
There are plenty of kits around that are perfect for beginners and you can customize your creations, perhaps using inflammable beads or stencils. Adding scents gives your candles added appeal. You can buy scents in block or liquid form, but potpourri or essential oils also work, as do crushed herbs. But we won't wax lyrical any more, get out there and get creating…
Knitting and crochet
Knitting and crochet are two of the oldest and most practical of crafts but have recently seen a growth in popularity. In the last decade, a practice called knitting graffiti, guerilla knitting, or yarn bombing — the use of knitted or crocheted cloth to modify and beautify one's (usually outdoor) surroundings— has sprung up, with a group of graffiti knitters called Knit The City among the most prominent participants in the UK. While they might seem sedentary exploits, studies have shown that knitting, along with other forms of needlework, provide several significant health benefits. The rhythmic and repetitive action can help prevent and manage stress, pain and depression.
Papercraft
Papercraft is not just limited to Origami, the ancient and extremely popluar craft of Japanese paper folding. Paper is not only versatile as a medium for getting arty, it's also relatively cheap and easier to work with than the likes of ceramics, wood, and metals. We probably all modelled with papier-mâché as children, and it's great for creating items like masks. But there's no need to stop there. Back in the 1800s, a papal tiara was made from papier-mâché for the exiled Pope Pius VII! Another papercraft which is easy to master and can produce beautiful results is decoupage, the art of decorating an object by gluing different pieces of paper on to it, then varnishing. Try it with a box or picture frame to make a stunning, personalised present. Or how about trying card making? The results can be as elaborate as your time and talent allow. It's an activity that tends to be a big hit with children – and the recipients of their art!
Patchwork and quilting
Patchwork is most often used to make quilts, but it can also be used to make bags, wall hangings, cushion covers and numerous items of clothing. Some textile artists work with patchwork, often combining it with embroidery and other forms of stitching. It's an art that can be complex, but if trying to replicate a fiddly pattern seems daunting, create a 'crazy quilt' where shapes and sizes are irregular. Evidence of patchwork exists throughout world history, but it is often associated with America, where today it is a billion dollar business. As a hobby it embraces the 'make do and mend' ethos, as even very small and worn pieces of material are suitable for use in patchwork, although crafters today more often use new 100% cotton fabrics as the basis for their designs. Yet while patchwork quilts were often created when times were hard, these days they are highly desirable and can be very costly. Unless you make your own, of course…
Cake decorating
Traditionally icing or frosting and other edible decorative elements have been used to make cakes more visually interesting. However you can take things so much further, moulding and sculpting cakes to resemble three-dimensional people, places and things. One reason that cake decoration has developed to such an extent is the rise in popularity of fondant icing, which provides a smooth and elegant finish to a cake, and is versatile when it comes to modelling. Fondant icing can be bought in shops, but it's easy to make at home, and you can flavour it to your taste. Personalised cakes for parties and weddings can be very costly. Maybe it's time to create your own, and taste success as a sugar artist?
Metalwork and woodwork
They may not be the obvious choice for many crafters, but if you are looking to work with less run of the mill art materials, give a thought to metal and woodwork. Find a suitable class and you could try something like repoussé, a metalworking technique in which a malleable metal is ornamented or shaped by hammering from the reverse side to create a design in low relief. You also could try moulding or welding to make decorative objects. And if that all sounds a little hardcore, why not have a go at jewellery making? There are plenty of shops and websites that stock the findingss (clasps, brooch backs etc), wire, pliers and millions of different beads and decorations, and it is relatively easy to construct your own creations and hone your skills, without going near costly precious metals!
Then there is woodwork. Woodcarving employs the use of chisels, gouges, and a mallet, and if you want to get really serious, you can work with powered equipment like a lathe, whereas whittling involves only the use of a knife. You'd also use a lathe for woodturning, to create items such as wooden bowls. Have a hunt around on the internet for hobby groups and classes if these types of craft appeal.
How to alter a charity shop dress
Three, two, one, stitch! A crafty second challenge
Cut your cloth with cushion making tips from May Martin
A stitch in time...
Kate White, Norwich: I'm a freelance writer, but sew as a hobby. I struggle with anxiety, and sewing is really good for helping with that. It's so focused that it doesn't allow your mind to do the silly things it would when you are anxious. So I have found it very beneficial for my mental health.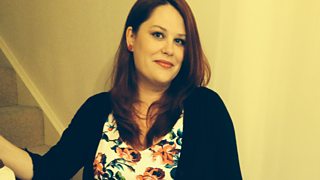 I struggle with anxiety, and sewing is really good for helping with that
I find it difficult to buy clothes that fit me well and for years kept talking about learning how to make my own. When I bought my first flat, I was taught how to make blinds and cushions, loved it and got a sewing machine. Then as a Christmas present my mother and grandmother bought me dressmaking lessons. I did a six-week course and made a top, a dress and a skirt. For that evening, once a week, I completely cleared my head of everything else and just focused on sewing, which was lovely.
I signed up for two more courses, learning how to make a more intricate dress and a jacket. I felt so proud afterwards, as they were pieces I had thought were way outside my skill set.
Now I work from paper patterns but have the confidence to adapt them, if I need a lower neckline, or shorter sleeves.
The dressmaking scissors that I use belonged to my great, great grandmother. They were given to me by my maternal grandma who was really good at knitting, but her mother had done dressmaking. My other grandma made all her own clothes, so in my family there is a real heritage of being seamstresses.
A version of this article was originally published on 3 February 2015.
Meet the world-record holding crafters making a crochet Christmas project

One of a handful of aspiring artists whose painting was chosen for the Royal Academy's Summer Exhibition

A retired designer who painted a Canaletto-style painting, replacing the buildings with those of his home town

A jewellery designer who discovered a love for digital printing and uses it as a way to relax and to cure jet-lag

A dedicated mum and knitter who makes retro tank tops for her rugby- mad son and his friends to add a splash of style to the stands

A stitcher who joined a sewing group to meet like-minded people. She's made tea cosies and draught excluders as gifts and hopes to move to dressmaking

A stroke survivor who has used painting, music and writing to rehabilitate. He shared his first self-portrait using his affected hand with Get Creative

A keen cross stitcher and crafter who uses it as a way to relax and wind down after a day content producing for Get Creative