Main content
Survivor's guide to cruising
With more than 1.7 million of them taken in 2012, cruises more popular than ever, and that figure's set to rise this year. They advertise top class accommodation, food and drink at your fingertips and days of endless sun, but as with any holiday, there are a whole host of tricks that can leave you hundreds of pounds out of pocket.
We got together some veteran cruisers to show you the common pitfalls and what to avoid.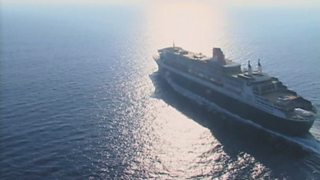 Bill and Gill booked a Norwegian Fjords cruise with P&O through Thomas Cook, choosing the company's so-called "Vantage Fare" they paid £890 each for a balcony cabin. The "Vantage Fare" means that if the holiday comes down in price between booking and departure, P&O will refund the difference by issuing on board spending money or a cabin upgrade of equivalent value. The price did come down, by over seven hundred pounds per couple for a similar outside balcony cabin. However when Bill contacted P&O for a refund, they refused. The company called the new prices "Getaway Fares", and, simply by giving them a different name, with slightly different terms and conditions, they don't have to refund customers who booked under the "Vantage Fare" scheme.
A number of cruisers set sail alone, but if you're travelling solo, you need to watch out for this trick from one of the biggest cruise lines, Cunard. Diane Drayson booked her cruise from Dubai to Southampton in March. She had managed to secure one of those "Getaway Fares".
Diane said 'I feel I'm lucky to have been able to get a Getaway Fare. I believe this is the last cruise where solo passengers are able to buy Getaway Fares.' Cunard no longer allow solo travellers access to the special "Getaway Fares", only couples. Those sailing alone must pay the more expensive "Vantage Fares". This means the price of travelling alone could end up higher than two people travelling together. Cunard have told us that due to customer feedback they have now changed their policy. As from the 1st of September 2013 "Getaway Fares" will be available to solo travellers.
Another common cruise complaint we've heard about is that dreaded on-board 'extra', paying your tips. Experienced cruiser Gordon Gresham told us 'Well it varies from line to line, but probably ten, thirteen dollars a day per person. You can either pay that in advance or you can pay at the end of the cruise on your ship board account. On top of that there's an extra fifteen per cent on all drinks that you buy when you're on board the ship. You have to look rather carefully at the small print in fact to find out exactly what the position is.'
Another thing to look out for is the flights. Reggie Choppra told us 'I usually prefer to book my flights separately from my cruise because typically I find with all the web sites that are available now you can get a better deal especially if you are travelling long distance.'
We found a Princess Cruise departing from San Francisco. The cheapest flight on offer to and from San Francisco through the Princess website was £782. The cheapest flight available with that same airline direct was £672. Although it did offer more flexibility, that's £110 less per person. Although it's worth bearing in mind, booking an outbound flight through the cruise liner does give you extra protection if your flight is delayed and you miss the cruise.
But now you know what to look out for you can step on board with confidence. Happy cruising!
Company statements

The Cruise Lines International Association told us: More British holidaymakers than ever before chose to take a cruise last year which reflects the great variety of cruise holiday, worldwide destinations and the renowned personal service which more often than not far exceeds that received on a shore side holiday. In the last five years, 2.7 million British holidaymakers have taken their first ever cruise.
Tipping/gratuities: Guidelines on tipping vary among cruise companies but the majority of operators aim to make it simple for the passengers by automatically adding a sum to the customer's account on a daily basis although these are not compulsory and may be taken off or amended at passengers' discretion. Some companies will include tipping in the overall cost of a cruise and some will have a 'no tipping' policy.
Each cruise operator does offer specific advice to its customers about tipping/gratuities in their own literature and on their websites and our advice for the consumer is always to check with a cruise line before booking a holiday or once booked, before travelling.
The vast majority of cruise passengers are happy to reward crew members for good service and they find the information and guidelines provided by cruise companies to be accurate and helpful.
Flights: Buying a flight separately could be cheaper but may end up costing the holidaymaker more in the long run if the flight is delayed or cancelled and causes them to miss the cruise ship's departure. While this is a rare occurrence it's one that would mean the consumer could miss the whole or a major part of their cruise as the onus to find alternative air flights to one of the ship's ports of call would be theirs and their airline, rather than the cruise company.
Buying a flight and cruise together at the same time is classed as a package and the consumer has significant protection, for example in circumstances where their flight is delayed or cancelled then the cruise operator is still responsible to ensure that the holidaymaker gets to the ship at no additional cost to themselves.
P&O told us: In relation to the case of Mr and Mrs Collins, we are very sorry if the customers feel that the elements of each of our Vantage and Getaway Fares were not properly explained to them by the travel agent they dealt with when making their booking. We are keen to ensure all travel agents selling P&O Cruises holidays are well trained on the features of our holidays and we apologise if Mr and Mrs Collins feel they did not receive the service they should have. Since introducing both Vantage and Getaway Fares in July 2012, hundreds of thousands of customers have bought Vantage Fares and received the accompanying range of benefits. One of the most important benefits is our Price Promise, offering on board spending money or upgrade to the same value as any reduction in the price of a Vantage Fare and over the last year we have honoured this on tens of thousands of bookings. We publicised the fact we would be likely to introduce Getaway Fares on some cruises when we introduced Vantage Fares and always made it clear in our brochures and online that this was a possibility, so customers would be clear that they had that choice. The high level of demand for our Vantage Fares has confirmed that many customers prefer the peace of mind of securing the cabin location and number and Price Promise protection over waiting for the possibility of a Getaway product, with 100% deposit and 100% cancellation fees, becoming available. If the service Mr and Mrs Collins received on this occasion did fall short of what it should have been, we will work with the travel agent concerned to ensure the training it gives its staff meets the high standard the travel agent and P&O Cruises aim for when dealing with customers.
Cunard told us: In response to passenger feedback Getaway fares will be available to single travellers on P&O Cruises and Cunard for departures from September 1, 2013. P&O Cruises also has single cabins available on four ships in its fleet (five ships from the end of this year) and their pricing is reflective of the size of accommodation on offer. The single cabins on Azura are approx 120 sq/ft compared to the standard twin cabins which are approx 160 sq/ft, and have all the amenities of a twin cabin in addition to a wider bed, designed to be more comfortable for the single traveller. P&O Cruises and Cunard do from time to time make special offers available for single travellers and we greatly value and welcome many single travellers onboard our ships every year.
Princess Cruises told us: To simplify the tipping process for our passengers a discretionary hotel and dining charge of $11.50 per person per day is automatically added to passengers on board accounts. This charge is not compulsory and may be taken off or amended at passengers' discretion at any time during their cruise. A 15% gratuity is added to bar charges and is split between the bar staff and their support staff. Details of our tipping policy is clearing laid out in the 'Important cruise information' section of all of our brochures.
All fly cruises offered by Princess are advertised with a cruise only fare to give passengers more flexibility when selecting their chosen flights and transfers. Passengers can either book their flights with Princess or direct with their preferred airline. Princess Cruises offer a live flight system that covers a majority of airlines, which operates live up-to-date pricing.
Flights booked with Princess as a package are protected by ATOL package protection which complies with UK consumer protection laws and which gives the passengers protection should there be any flight delays or cancellations, ensuring Princess Cruises will do everything that's reasonably possible for passengers to join the ship at the next available port, giving them greater peace of mind.
Thomas Cook told us: We're really proud that we're the UK's leading cruise retailer and our experienced agents have regular and comprehensive training on the various pricing structures from the cruise lines. We're very sorry that Mr & Mrs Collins feel they were given incorrect information, and while we understand their frustration, there was no guarantee at the time of booking that P&O would issue a cheaper Getaway Fare on the particular cruise they had chosen.