Main content
The Witterlist - 20th September 2019
Mark was in Strasbourg this week so like a sad Brad Pitt shooting across the solar system, we projected him through space and into the studio where he could witter with Simon and say hello to a special live guest.
The Interview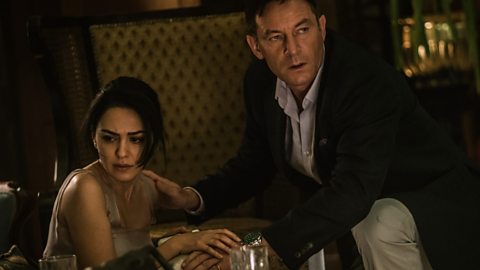 Simon Mayo and Mark Kermode talk to Jason Isaacs about his new film, Hotel Mumbai.
You know what to say, as Jason Isaacs joined us live in the studio to talk about his new film, Hotel Mumbai, a dramatisation of the 2008 terrorist attack on the Taj Hotel. Jason told Mark and Simon about the film as a tribute to the hotel's heroic staff and why it is ultimately a message of hope.
He also discussed the many strange places around the world where he's had people say hello to him.
Mark found the film itself to be very uncomfortable and distressing, but the centre of the story is really the heroism of ordinary people. Dev Patel leads an ensemble cast brilliantly and it's all confidently directed by first timer Anthony Maras.
James Gray co-wrote and directed Ad Astra, a sci-fi that explores inner and outer space as Brad Pitt travels across the solar system to find his long-missing father (Tommy Lee Jones). It's had rapturous reviews but Mark found its jarring action set pieces to be bizarre and sometimes silly distractions from a film that has some wonderful elements.
Awkwafina leads a very strong cast in Lulu Wong's comedic drama, The Farewell. Mark found it funny, moving and heartwarming, leaving the cinema with a spring in his step.
The Kitchen stars Melissa McCarthy, Tiffany Haddish and Elisabeth Moss as three mob wives in 1970s Hell's Kitchen who take over their jailed husbands' rackets. Like a slightly bodged TV movie with more violence, it's a strange mess of a film.
Next week
Next week, Mark might return from overseas to join us in reviewing The Goldfinch, Ready or Not and more. Plus, Emily Mortimer joins us to discuss her new film, Good Posture.