Main content
1: ¡Hola! ¿Qué hay?
Hello! How are you?
Charlie visits Quique's apartment for the first time and meets his mum, Sofía, his Uncle Manu and their neighbour Teresa. Teresa tells a story about getting to know your neighbours and Uncle Manu sings about their district of Madrid - Lavapiés. Key vocabulary includes greetings, names and animals and there is help with pronunciation of vowel sounds and comparing names in Spanish and English.
Dual transcript / translation for Clips 1 - 4 (pdf) with links to the online audio files
Clip 1: En el piso de Quique y Sofía
In Quique and Sofía's flat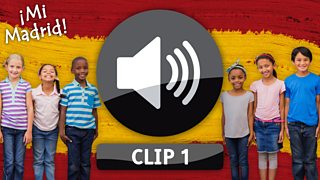 Charlie has recently come from England to live in Madrid. She visits her new friend Quique at his home in Lavapiés, where she meets Quique's mum Sofía, and his Uncle Manu, who will all help her learn Spanish.
Clip duration: 04 06
Supporting images
The names of some popular pet animals in Spanish - cat, hamster, lizard, dove, dog and snake
Clip 2: Cuento - El nuevo vecino
Story - The new neighbour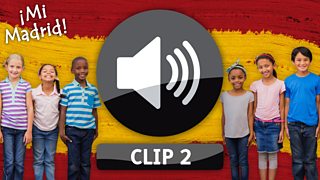 Teresa the Hamster is from Mexico and doesn't know her neighbours in Madrid. She bakes some magdalenas and leaves them on her neighbours' doorsteps with a note introducing herself. Soon she has lots of friends!
Clip duration: 04 12
Themes, Vocab and Grammar
| Themes and vocabulary | Grammar and pronunciation |
| --- | --- |
| describing what you like and dislike doing | using infinitives |
| school in Spain | the names of school subjects in Spanish |
| describing your friends | words to describe a person's character |
| giving opinions | putting infinitives and opinions together |
Clip 3: En el piso de Quique y Sofía
In Quique and Sofía's flat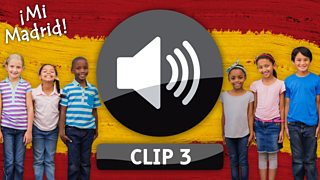 Quique and Sofía help Charlie to say where she is from using the Spanish soy de. They also help her to understand the names of some countries and cities in Spanish and also to improve her vowel sounds.
Clip duration: 04 20
Key vocabulary 1
| Spanish | English |
| --- | --- |
| cantar | to sing |
| charlar | to chat |
| dibujar | to draw |
| escribir | to write |
| escuchar música | to listen to music |
| ir a conciertos de música | to go to music concerts |
| ir al cine | to go to the cinema |
Clip 4: Canción - Mi barrio
Song - My neighbourhood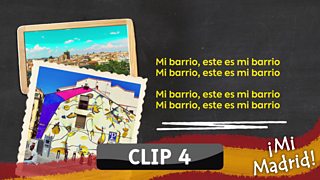 In this song, Uncle Manu welcomes us to the district of Lavapiés in Madrid where Charlie and Quique live. He tells us what it's like and what you can find there.
Clip duration: 02 40
Key vocabulary 2
| Spanish | English |
| --- | --- |
| amable | friendly |
| creativo/a | creative |
| feliz | happy |
| generoso/a | generous |
| inteligente | intelligent |
| reservado/a | reserved / shy |
| valiente | brave |