Main content
Women MPs: Why I got into politics
As part of the BBC's Hear Her season, marking the centenary of some women getting the right to vote, BBC Radio 5 Live has spoken to five female politicians about what motivated them to get involved.
Heidi Allen, Conservative MP for South Cambridgeshire
"It was like I'd switched on some war scene, it didn't look like my country." Heidi Allen was sitting on the sofa having dinner with her husband watching the news as the Tottenham riots unfolded.
It was August 2011, and over the next five days trouble spread from London to other cities across the country.
"Almost every night another city, Leeds, Manchester, places I knew, places I never would have expected this thing to happen were just utter chaos."
Night after night the businesswoman watched the events - "almost tuning in like a soap opera" - to see if the situation was getting under control.
"I remember being glued to the TV thinking, this is my country, I love my country, what on earth is happening to it?"
Night after night she would get cross at the scenes on the news.
It was her husband who turned to her and said she needed to stop shouting at the TV if she wanted to do something about it. He suggested she become an MP.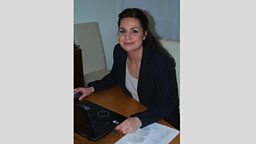 (Heidi Allen in her previous career in business. Photo:Heidi Allen)
In 2015 she was elected Conservative MP for South Cambridgeshire.
Heidi Allen describes herself as the kind of person who - if they see an untidy room, they have to go in and tidy it up.
"I just can't help myself, if I see a mess I want to get involved and that's just how I am and it seemed to me my country was economically and socially in a mess and I needed to help."
Tonia Antoniazzi - Labour MP for Gower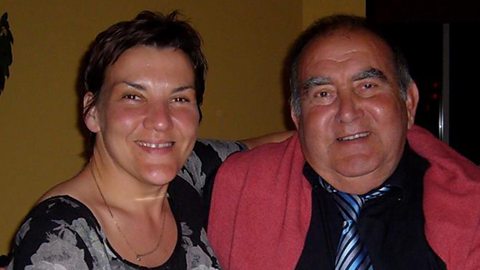 Labour MP Tonia Antoniazzi explains why she got into politics.
Reality struck for Tonia Antoniazzi when she didn't have enough money to put petrol in the car to visit her sick father in hospital.
Working as head of languages at a secondary school teaching French and Italian, the former Wales women's rugby player was on a "decent salary".
But things got difficult when she got divorced and became a single parent around the time of the 2010 coalition government.
"I noticed my income cut straight away. I lost child tax credits and childcare allowance for my son's after-school club and I was counting every penny as a single mother."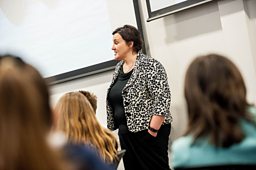 (Tonia Antoniazzi in her previous career as a teacher. Photo:Tonia Antoniazzi)
She began to think that if she was finding it difficult on a "very good wage" as a teacher, "other people must be finding it harder".
"And that's when it starts to make me cross. I'm cross about my own situation and then seeing other people struggle has really made me want to get involved with politics."
It was her brother who told her to "stop being so angry and stop going on about it" and to do something about it.
He persuaded her to join the Labour Party. Not long after she was selected to stand for the highly marginal seat of Gower which she won in the snap election of 2017.
"I've got a big gob and I'm going to use it," she added.
Baroness Benjamin - Liberal Democrat peer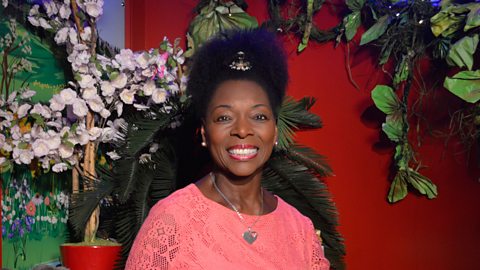 Liberal Democrat peer Baroness Benjamin explains why she got into politics.
If you grew up in the 1970s, you probably grew up watching Floella Benjamin and Big Ted looking through the round window. Decades later, the now Baroness Benjamin looks through the leaded window of her House of Lords office towards Parliament Square.
Although going from children's TV presenter to politician may seem like an unlikely transition, Baroness Benjamin said politics was in her DNA.
"My grandfather was the deputy prime minister of Antigua and my father was a union man, he fought for workers' rights, so politics was in our home."
But it was her experience on the BBC TV programme Play School which brought her into active politics, campaigning and speaking up for children.
"I realised that childhood lasts a lifetime, so I started campaigning for a minister for children and that took me 20 years."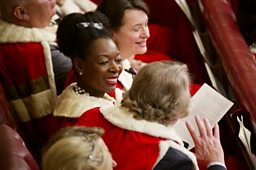 (Baroness Benjamin in the House of Lords. Photo:AFP/Getty)
The former Liberal Democrat leader Nick Clegg heard her speaking and invited her to join the party and sit in the House of Lords.
"You can do a lot if you really feel committed and you're passionate about making a difference," she added.
Angela Eagle - Labour MP for Wallasey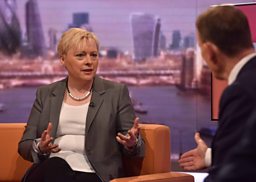 It was the experience of her mum and dad that set Angela Eagle on the path to politics.
Speaking on BBC Radio 5 live's Pienaar's Politics, the MP for Wallasey described how her parents, who grew up in Sheffield, were "extremely clever, but were told they couldn't go to grammar school".
"My mum passed to go to grammar school but couldn't afford the uniform," she said.
Ms Eagle said she believes her parents' life chances were narrowed down after that.
But it drove them to make sure their two daughters made the most of their education. Angela and her twin sister Maria, who is also an MP, were the first in their family to go to university. They both went to Oxford.
Angela Eagle said: "I always wanted to make sure everyone got that chance and that's what drove me into politics."
Priti Patel - Conservative MP for Witham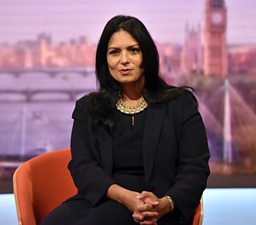 Priti Patel was a teenager working in her dad's Hertfordshire shop when a particular customer walked in and the seeds of a political future were sown.
Speaking to BBC Radio 5 Live, the former cabinet minister said it was a chance meeting with her local MP, the late Cecil Parkinson, which got her into politics.
"Cecil used to walk the high street in Radlett, which is where my folks lived, and chat to shopkeepers.
"The fact he managed to sign me up as a young Conservative at the time should send out a very powerful message to other MPs. Go and talk to your shopkeepers."
More like this
Female scientists share their tips for girls who want to work in the space industry.

Kim Leadbeater, sister of MP Jo Cox, investigates what 'British values' mean in 2018.

Actress Rhea Bailey shares her family's Windrush story.