Main content
BBC Ideas in partnership with The Open University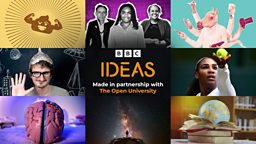 Curious to find out more?
The Open University (OU) is proud to be working with BBC Ideas, producing content with the aim to challenge and inform audiences in a digital-friendly and accessible way. OU academics and BBC Ideas commissioners meet regularly to brainstorm emerging ideas and themes covering science, history, psychology and much more.
The OU has co-produced over 40 BBC Ideas videos, inspired by and drawing on the university's academic expertise to explore the ideas and concepts that shape our world. These thought-provoking short films can be found on the OU's playlist.
The OU and BBC have been bringing learning together for over 50 years. Click here if you would like to take your curiosity further.
______________________________________________________________________________________________
The Open University is the largest academic institution in the UK and a world leader in flexible distance learning. Since it began in 1969, the OU has taught more than two million students worldwide and has over 175,000 current students, including more than 7,000 overseas. Over 76% of students are in full-time or part-time employment, and three out of five FTSE 100 companies have sponsored staff to take OU courses.
Click here for further media information about OU co-productions.
Click here for more general enquiries about The Open University