Main content
Gripping yarns: Discover knitting's weird and wonderful side
9 May 2019
It may bring to mind itchy jumpers made by your granny, but a new generation is taking knitting into amazingly creative directions. Here are some weird and wonderful examples - and if they've inspired you, the Get Creative Festival 2019 features all sorts of events where you can give it a go.
A woolly Andy Murray and one of Liverpool's Easter postbox toppers | Images © Ruth Bailey and Jackie Holt; Iain Watts/Mercury Press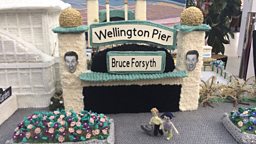 Part of Great Yarmouth as created by 89-year-old Margaret Seaman

Knitted versions of Yoda, Homer Simpson, Gnasher, Fred Flintstone, Marge Simpson, and Batman | Images © Oldland Knitted Bollards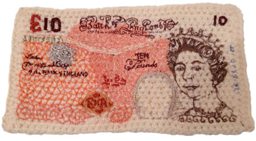 'Counterknit' is a knitted £10 note created by Kate Talbot | Image © Kate Talbot
If you think knitting is boring then think again! Here are 10 reasons why knitting can be a power for good (and occasionally bad).
(Cannon)ball of wool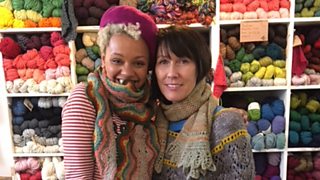 On The Leisure Society with Gemma Cairney, Kelley Deal from The Breeders talks about how knitting helped her while recovering from addiction.
When slip knots meet Slipknot!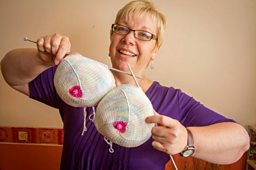 Kay Coombes from Knitted Knockers UK with a pair of woollen prosthetic breasts
Knitted Knockers
The art of knitting is not just about making woolly toys or chunky sweaters – it can provide valuable help to people recovering from illness.
Knitted Knockers is a group of around 650 volunteers who make artificial breasts for women who have had mastectomies.
They won the People's Choice Epic Award for making and supplying more than 2,000 prostheses a year to over 800 women, all free of charge.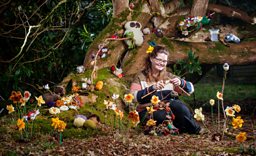 Woollen Woods was launched in 2013 by Eden Arts, but can now be seen in installations throughout the UK.
Break-knit speed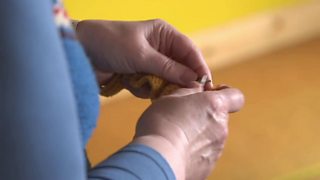 Follow the 'how to' guides and you may, in time, be as skilled as Hazel Tindall – the Scot who was once crowned the world's fastest knitter! (Via BBC News Scotland)
More woolly stories
Battersea Dogs and Cats Home want knitters to make blankets for dogs and toy mice for cats.
More information on Get Creative Festival
The BBC's online home for the Festival, with links to all programmes and features.