Main content
Weight by Kate Davis
Artists' Moving Image at the BBC
About the film
Taking a 1961 BBC documentary about artist Barbara Hepworth as its starting point, Weight explores how televised depictions of creativity have constructed our understanding of artistic production and other forms of labour.
Weight re-imagines the value systems that this documentary is predicated upon and proposes an alternative vision.
Kate Davis, 2014
More about the artist
Born in New Zealand, Kate Davis lives and works in Glasgow.
My work tries to respond to the complexities of the past
Questioning how to bear witness to the complexities of the past, Davis's artwork is an attempt to reconsider, reclaim and reinvent what certain histories could look, sound and feel like.
Informed by successive waves of feminist art and theory, Davis works across a range of media, including drawing, installation, bookworks and film/video.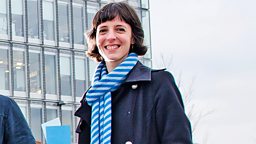 Artists' Moving Image at the BBC
What are the results when artists specialising in the moving image are given the freedom to explore, manipulate and create from the vast BBC film archive?