Main content
Tom's Top Tips for Losing Weight for Good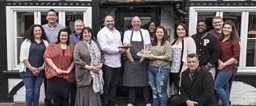 Get Started
Tom challenges his diet gang to follow a calorie-controlled diet using his recipes to help them. He also encourages the group to take regular exercise to help achieve their weight loss goals.
Each person is given a daily calorie limit according to their height, weight and gender. If they stick to this then they can expect to lose 1-2 pounds per week (or 0.5-1.0 kilo per week).
A gradual reduction in calorie intake is the weight loss method recommended by the NHS and other UK health bodies. More information about how to lose weight can be found at the NHS Choices website.
Tom's Recipes
Some of Tom's recipes featured in the programme will be available each week after the broadcast. These can be found on the Lose Weight for Good programme page.
NHS Choices: Online resources
Tom's toolkit
All the ingredients you need for lower calorie cooking can be found in the supermarket and you don't need to buy expensive kitchen equipment.
Here are Tom's Top 5 items; once you've embraced this way of cooking, you'll go back to these items in your toolkit time and time again:
| Item | Why? | Other info |
| --- | --- | --- |
| A cook's blowtorch | to brown or caramelise food instead of frying in oil | these are inexpensive and really useful bits of kit. Be safe... |
| A fine hand grater | for garlic, ginger, lemon zest etc | really quick and easy way to add base flavours to dishes |
| 1 cal oil spray | used as an alternative to other cooking oils | versatile and can dramatically cut oil consumption and therefore calories |
| Granulated sweetener | low calorie alternative to sugar | lots of different types to choose from and they work really well in so many recipes |
| Single cream alternative | a lower fat and lower calorie cream for use in savoury and sweet dishes | milk-based and soya-based versions can found in the supermarket for a creamy taste and texture |