Main content
Shakespeare in Shorts
Join us as we explore six of William Shakespeare's well-known plays, retold using modern music.
These short films are designed to introduce pupils aged 7-14 to Shakespeare's work and provide a platform for further exploration of the texts. They are a great way of consolidating key aspects, or to use for revision of the plot and characters.
They contain animated scenes of battles and acts of violence and should be reviewed before use in class.
For more details and our supplementary teaching resources, click on the green title below each video.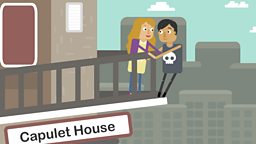 More Shakespeare Resources