Main content
Frank Skinner: My Room 101
Room 101 host Frank Skinner shares his memories from the show - and his dream guests! Plus, what he'd like to see banished to Room 101 for good...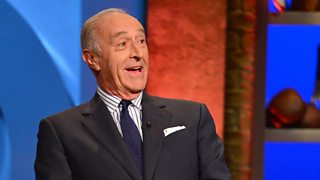 Strictly Come Dancing's Len Goodman was a cracking contribtutor
The most memorable contribution to Room 101 was Len Goodman putting in 'all foreign food'. He was just hilarious. He said that his grandad told him not to 'eat anything you wouldn't want to tread in'.
The most convincing guest was Gabby Logan attacking people who moan about the Olympics. This was before London 2012 had happened and I was one of those moaners. Gabby totally won me over and I changed my mind completely.
I like it when people really care about their choice. When Fern Britton talked about the amount of homework her kids have to do I could really feel the pain and frustration. Who knew?
My dream guest line-up would be Roy Keane and Jedward. Though we might need someone with a tranquilizer dart if we reached a point where Jedward were in genuine danger.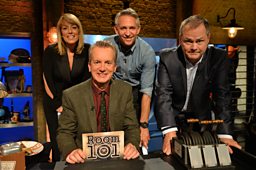 Frank with Room 101 guests Fay Ripley, Gary Lineker and Jack Dee
What would Frank send to Room 101?
People: The aeroplane passengers whose hand-luggage has wheels. That's not hand-luggage, it's floor-luggage. Downsize!
The ketchup can't get a grip. It slides off. It's like a relish rodeo.

Frank on sausages
TV: Anyone who starts a sentence; 'it's like that episode of Seinfeld...' or 'that episode of The Simpsons' or 'that episode of Curb Your Enthusiasm'. Shut up! I can't cope with the general adoration of American TV. Of course watch it, but don't tell me about it.
Animals: Lionesses. Lions are supposed to have manes. That's the dress code. Lionesses just look like light brown tigers.
Places: Parking spaces. They're too snug. Some people actually reverse into them. Astonishing!
Sport: Colorful football boots. You've had your fun, now get changed.
Food: Sausages. Why do they have to be tubular? The ketchup can't get a grip. It slides off. It's like a relish rodeo.
Wildcard: Atheists