Main content
Nicola Adams' Desert Island Discs
Leeds' finest, Nicola Adams, is the first British female double Olympic boxing champion; in her Desert Island Discs she talks to Kirsty Young about being mobbed in the supermarket, hating to lose and how she only got into boxing because her child minder called in sick.
Down but not out
Although she's "really good defensively" and has avoided any serious boxing inflicted injuries, she fractured a vertebra falling down the stairs before the 2012 Olympic selection camps. Doctors thought she might not walk again, and she was bedridden for three months. She managed to get to one of the camps, and "did a couple of rounds sparring" helped by three morphine patches to cope with the pain. "It was the hardest day I have ever had in my life", she says.
Checkmate
Nicola sees boxing as a game of tactics, like chess. "For me boxing is a work of art. You can't just lose all your senses and throw caution to the wind – you've got to be so smart and tactical."
Mother courage
At 12, she went with her mum to a local gym as her child minder had cancelled and her mother wanted to do an aerobics class. She put Nicola into the junior boxing club and she loved it. She describes her mum as her "number one fan, the person who has worked the hardest for me, taking me to gym and training camps and raising funds for me to box abroad."
Cool under pressure
"I love pressure," she says. "It makes me perform ten times better. I like the feeling of 'if I get this wrong I might die'." However this doesn't extend to driving. She plays Tchaikovsky's Nutcracker Suite to keep her calm on motorways when people "don't like to use their indicators when they're switching lanes."
Girls on film
To make ends meet and raise money for boxing training camps, she performed as an extra in Coronation Street. She enjoys acting – a female James Bond maybe? "It's time."
Out of the ring
She's openly bisexual, and has never found it an issue. "I'm not the type of person that could live in fear," she says. "This is who I am, you either like me or you don't, I guess." She coped as a young girl in the male environment of the gym; what helped was her coach saying, "There is no male or female in this gym, you're all boxers, and you listen to me."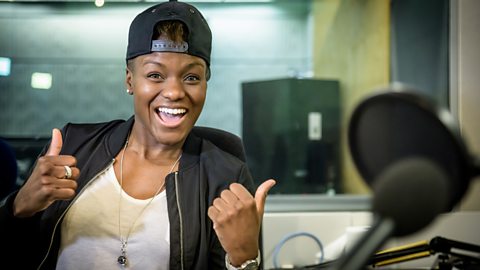 Nicola Adams on being open about her sexuality.
A winning manner
As a five-year-old, playing board games with her father, she would demand to win and he'd tell her that she'd only appreciate her victory if she earned it. "I really don't like coming second," she says. "If it happens now I watch the replays with coaches. I'm not a happy person when I lose."
Ring of fire
At her first fight, aged 13, her throat felt like "a ring of fire" as smoking was still allowed in boxing clubs and the air was thick with cigarette smoke. Her coach was trying to get her to conserve her energy for the fight but she was too excited and ran around backstage and peeked through the curtains at the spectators.
The roar of the crowd
She's known for the evident enjoyment she feels in the ring and had a huge grin on her face at the Olympics. "No matter how serious things get you have to enjoy what you're doing and stay in the moment", she says. "When I won, the crowd apparently created the same amount of noise as a jumbo jet taking off."
Everyday life
After her Olympic win she thought she could continue her normal life in Leeds until she went to the supermarket, got mobbed, had to abandon her shopping and be escorted out by security. Has it settled down? "I can go, but I go at really odd times of the morning", she says.
Going public
Nicola's medical records were leaked after a hack. She suggests that if all medical records for elite sportspeople were made public that would restore confidence. "It doesn't seem like you're hiding anything then," she says.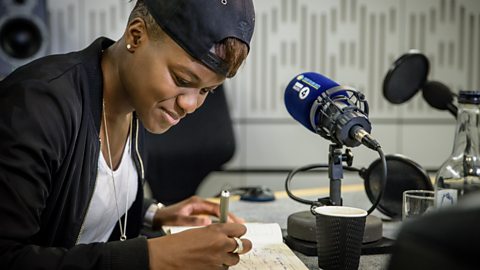 Nicola Adams on the controversy over drug use in sport.
Vegas, baby…
She thinks we're a couple of years away from a female boxer headlining Vegas. "And I most probably could be that woman…"
More Desert Island Discs
The first British female double Olympic boxing champion.