Main content
Layered White Chocolate Easter Cake

With poached cherries, primroses & Violets.
A great cake for Easter – filled with cream, softly poached cherries and decorated with sugar flowers, either iced or dusted with egg white and icing sugar.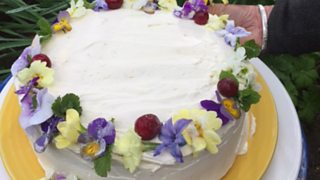 Ingredients
4 eggs
100 gms(4oz) Caster sugar
150 gms (6 oz) Self raising cake making flour
75 gms (3 oz)softened/melted butter
Poached Cherries
100 gms (4oz) cherries
50 gms (2 oz) caster sugar + 2dsp water

Topping
375 mls (3/4 pint) whipped cream
150 gms (6 oz) cream cheese
150 gms (6oz) white chocolate
To decorate
Spring flowers, cherries, mint & icing sugar
Method
Gently poach the cherries with 2 dsp. water and 2 oz caster sugar until slightly softened, remove the stones and leave to cool.

To make the cake – beat together the eggs and caster sugar until light and fluffy and the mixture is firm, carefully fold in the sifted flour and finally the softened butter(almost melted) – Transfer to a lined cake tin 7 " in diameter ( or 2 small tins) then bake in the oven at 170 degrees C (150 fan oven ) or gas No. 4 for 15 – 20 minutes.

Bake until golden, firm and risen then remove from tin (tins) and leave to cool.

The cake can be cut into layers and spread with half the whipped cream and cherry mixture loosely folded together reserving a few cherries for decoration.

To make the icing beat the cream until almost stiff then fold in the softened cream cheese and finally the white chocolate melted over a pan of warm water (be careful not to overheat). Use to decorate the top and sides of the cake, then finish with spring flowers, Easter eggs, mint and shavings of white chocolate.